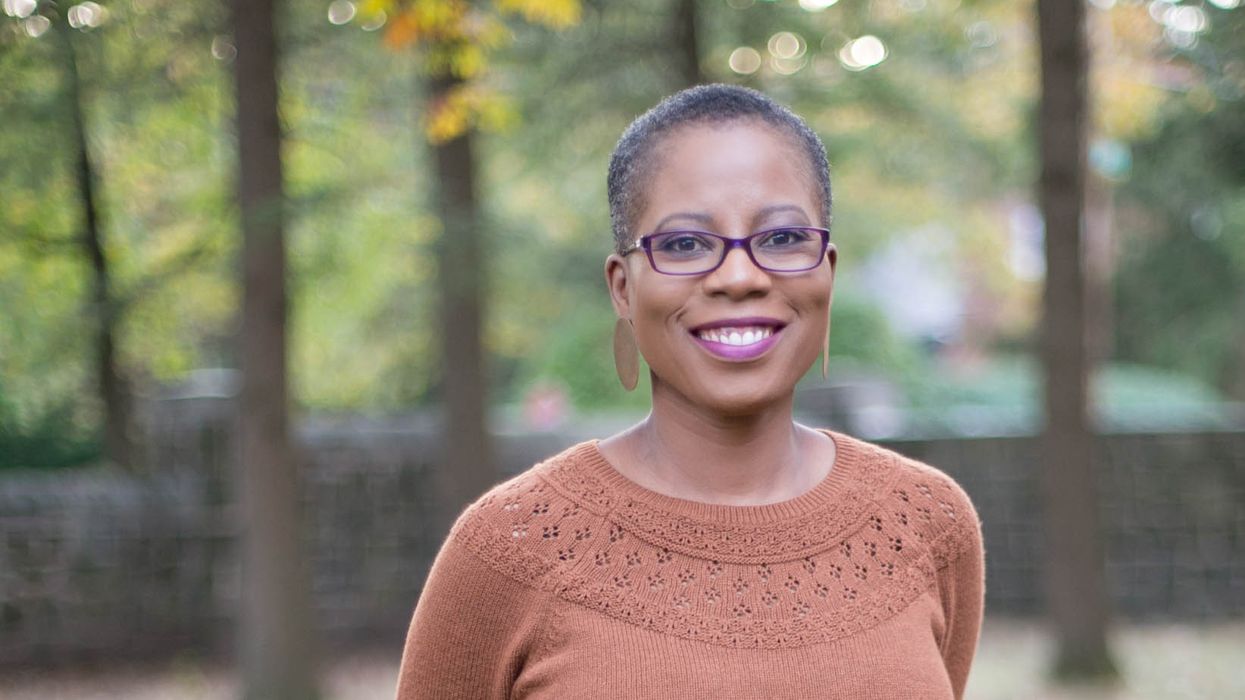 Student Spotlight | 8/21/2023
From Practitioner to Patient, and Back: A Cancer Survivor Never Wants to Stop Learning
By Maaha Rafique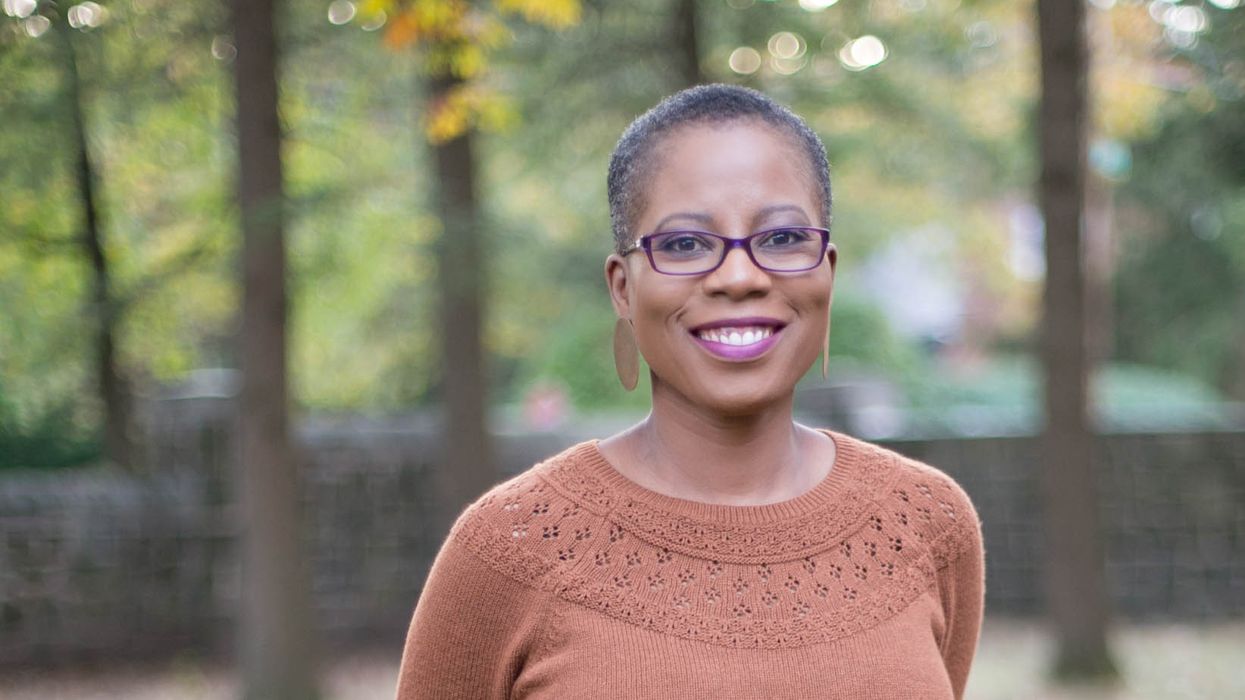 A radiologic technologist's cancer diagnosis led her to a new path in life, starting with MCPHS.  
When Nadia Obas, '23, was first told she had cancer, it was like the world had stopped. As a voice on the phone relayed the diagnosis, she looked at her young son, but it was as if her eyes couldn't register what they were seeing. In one moment, everything had changed. Recalling it now, she said, "I was not present."
Until that day in 2018, things had been going very differently for Obas. A mother to three girls and a boy, she worked as a radiologic technologist at Yale New Haven Hospital and was about to start a certification program for aspiring CT scan technicians. "Everything was ready to go. I was supposed to start in September. And then, one night in July, while I was watching TV with my husband, I did something that I think everyone does— I crossed my arms over my chest," Obas said. "And I felt something on my left breast."
It was a lump. The next day, she called her OBGYN to set up an appointment. They recommended scheduling a biopsy. The results were in that phone call.
Things happened quickly after that: meeting with doctors and nurses, telling her children, and deciding on a treatment plan. Obas went to chemo every Tuesday and returned to work the next day, balancing a full-time job and parenting amid the emotionally and physically exhausting cancer treatment. Despite receiving support from family, colleagues, and members of her church congregation, Obas experienced sadness and frustration, especially when she developed a painful cyst on her chest.
"I was angry," Obas said. "I was asking myself questions all the time. 'Why does it have to be me? I did everything I was supposed to—I went to my appointments on time and got my physical every year. So how come this happened to me?'"
Her doctor ordered a mammogram to investigate the cyst. Obas arrived at the appointment frustrated and tired. But then, the mammography technician told her something that turned everything around. Taking Obas' hand, the technician revealed that she had had breast cancer, too.
"I don't know if that woman saw something I didn't see on my face, but she took a minute to comfort me, and that's stuck with me since then," Obas said. "Every day, I go around and care for people, but that day I accepted that even if you're going through something like everybody else, you need to be nice to people giving you care. So, I changed my ways."
Obas' treatment progressed quickly. The cancerous tumor shrunk slightly within a few weeks. In April of 2019, after surgery and radiation, she was declared cancer-free. But her journey was not finished. The mammogram technician with the "beautiful soul" inspired Obas to pursue a career in mammography. That's how Obas landed at Massachusetts College of Pharmacy and Healthy Sciences (MCPHS)—and with the help of a persistent faculty member, Carol Anthony.
Starting a new journey
When Obas first began looking into schools, she contacted Anthony, an adjunct faculty member in the School of Medical Imaging and Therapeutics. Anthony was in regular contact with Obas, sharing information about the Advanced Certificate in Mammography program at the University.
"I thought she'd get tired of emailing back and forth, but apparently not," Obas said with a laugh.
Finally, Anthony convinced Obas and she decided the program at MCPHS was a good fit because of its affordability and clinical placement opportunities.
The program was online, so classes met on Zoom. Anthony was Obas' instructor. In addition to teaching at MCPHS, she is a working mammography technologist. Anthony has nothing but affection for the student she recruited.
"I try to make the Zoom meetings as fun as possible, and Nadia always laughed when I was trying to be funny. She is engaging and kind, which are traits you want in a mammography technologist," Anthony said. "Her experience with breast cancer will allow her to connect with her patients in ways most of us cannot."
Obas did her clinical placement at Griffin Hospital, an experience she valued highly. "The women there are very, very respectful and professional. They took me under their wing," she said.
And she could bond closely with the people under her care.
"I shared my story with a few of my patients. Some of them would not get to their mammo every year—they'd skip a year or go every three years. I said, 'No, it's important that you get your yearly appointment,'" Obas said.
Challenges and milestones
While Obas enjoyed the work, she suffers from test anxiety, and her first attempt at the certification exam wasn't successful. But the close relationship she formed with Anthony was key to keeping her motivated regardless.
"I called Carol and said, 'I'm sorry. I didn't pass by two points.' She said, 'Girl, don't worry, I got you. We're going to work every day,'" Obas said.
And work they did. Anthony took it upon herself to text Obas regularly, reminding her to practice questions and finish her daily reading. The messages were the push Obas needed, but the classes Anthony taught were the most helpful. Sometimes, Obas said, she forgot things, but then she would hear Anthony's voice in her head, walking her through testing strategies.
The work paid off. Obas passed the exam in March 2023, the same month she celebrated five years of being cancer-free. It was a milestone in more ways than one—both a personal and professional victory.
Her diagnosis, and that fateful phone call, changed the trajectory of Obas' life, leading her to new aspirations, relationships, and perspectives on living. Despite her illness and countless responsibilities, she's never stopped planning and living in the best way she can.
She doesn't want to stop learning, either. Though Obas already knows three languages, she's thinking about going back to school to learn Spanish, so that she can communicate better with Spanish-speaking patients. Just don't tell her family.
"I keep telling them I'm going to stop going to school," Obas said, laughing.