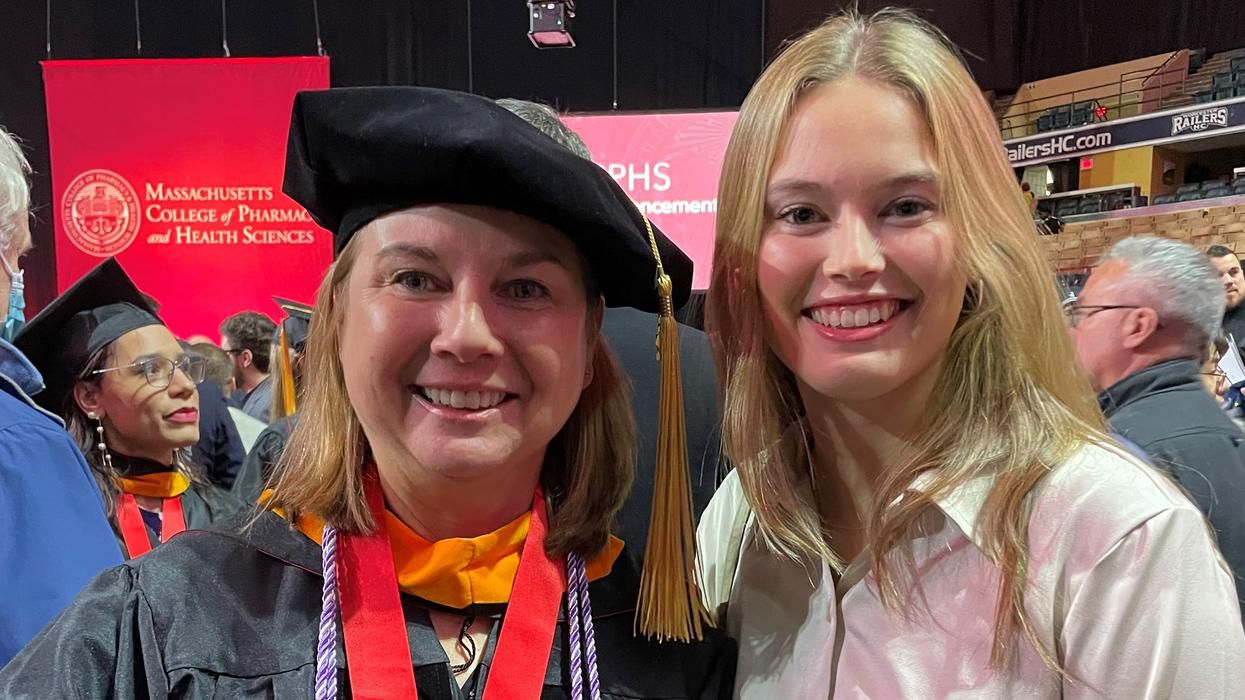 University News, Student Spotlight | 7/11/2023
'I Want to Be Relevant': DNP Graduate Has a New Perspective on Nursing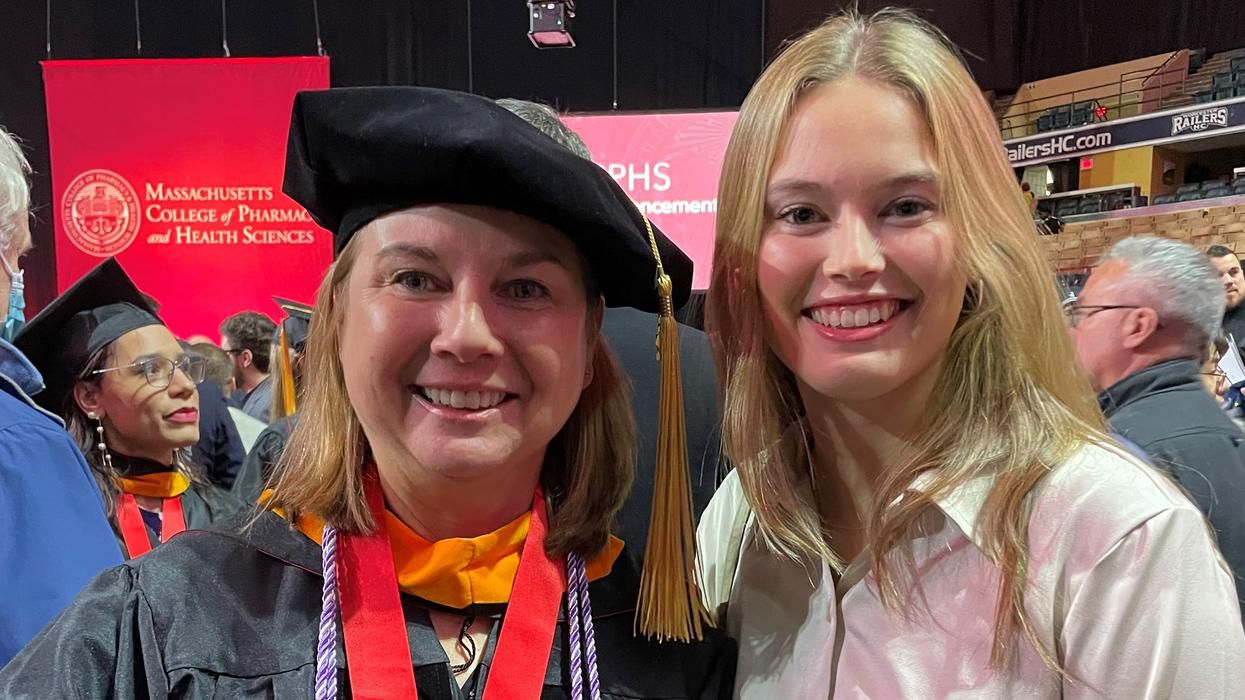 MCPHS School of Nursing awards first Doctor of Nursing Practice degree.
Susan D'Anna did something no other Massachusetts College of Pharmacy and Health Sciences (MCPHS) student has ever done before. When she walked across the stage at the DCU Center in Worcester last December, she became the first student to earn a Doctor of Nursing Practice (DNP) degree, a milestone for both D'Anna and the University.
"I've never been first at anything," said D'Anna, DNP, APRN-BC. "I was lucky, though. Everyone at MCPHS really held me up and got me through. I could tell they were not just invested in the program being successful but in me being successful as well."
Associate Professor and Interim DNP Program Administrator Bonnie Laurent said the School of Nursing is thrilled to have D'Anna as its first doctoral graduate. "Sue's dedication, hard work, and passion led to her success, and we are proud of the outstanding work she completed," said Laurent, DNP, APRN, CPNP-PC, PMHNP-BC.
D'Anna capped her MCPHS journey last winter, collecting her degree with 400 other graduates. Initially, she was planning to skip commencement altogether.
"Since pharmacy and the other doctorate programs do not graduate in December, I would have been the only doctoral graduate there," she said.
D'Anna's cheering squad, however, had other plans.
"My close friend and my daughter were very invested in going to watch me," she said. "My daughter recently graduated with her bachelor's degree in nursing, and I didn't realize how important it was for her to see me graduate."
Back to school
A nurse practitioner, D'Anna has been on the job for 37 years, doing everything from bedside care to critical care to women's health. Cardiology is her current focus at Dartmouth-Hitchcock Medical Center in Lebanon, N.H., where she specializes in advanced heart failure and pulmonary hypertension. Prior to graduating with her DNP, she earned a bachelor's degree from University of Vermont in 1986 and a master's degree from University of Connecticut in 1994. For three decades, D'Anna watched nursing evolve into a more research-based discipline, and she did not want to be left behind.
"Nursing exploded," she said. "When I was in my master's program, there was no such thing as evidence-based practice. I had no exposure to many of the frameworks that we use now. Most of these new nurse practitioners are now coming out of school with a DNP, and I thought, I still have quite a few years left to work, and I want to be relevant."
The program format is 100 percent online and takes 24 months to complete. Requirements include 1,000 clinical hours and a final project. Courses cover topics ranging from healthcare policy to research methods to epidemiology.
"The opportunity to take some elective classes with other students was really a nice part of the program," said D'Anna. "Doing discussion boards with the radiology, sonography and pharmacy students was a great way to communicate at a scholarly level with people from different disciplines."
Although D'Anna said she initially enrolled at MCPHS because of its online format, the program has affected her life in many ways beyond simple convenience. She made strong connections with faculty and is now a non-voting alumni member of the DNP Committee, a group focused on developing the standards for the program and curriculum. She would also like to become an adjunct professor.
A project to empower patients, providers
Along with her rigorous coursework, D'Anna engaged in an individual project specifically designed to improve quality of care and health outcomes. Her work, "The Diuretic Patterns of Hospitalized Heart Failure Patients in an Academic Medical Center," examined diuretic strategies to treat heart failure. Diuretics are medications known as "water pills" that help the kidneys flush excess fluid and salt from the body through urination. This makes it easier for the heart to pump.
"I basically did my project on making people pee," D'Anna said, laughing. But her research yielded some serious results. She presented her work before faculty, administrators, and peers in December and started to apply it to her clinical practice. "I'm taking those findings and developing diuretic protocols for hospitalized patients to guide providers," she said.
Real-world application is a hallmark of the program, Laurent said. "Sue's outstanding work continues to improve health outcomes for heart failure patients," she said.
Building self-confidence
In reflecting on the DNP program, D'Anna said MCPHS has helped take her nursing career to another level. "People talk to you differently. Having this advanced degree has allowed me to feel more confident in communicating with other colleagues who have the same level of education."
The day of Commencement last December was a blur. Mostly, D'Anna remembers the camaraderie. "MCPHS helps the working student and the working parent. They do everything they can to try to help people get through. I felt that at graduation. There were so many nontraditional students who were first-time college graduates. Everyone had a story."
And D'Anna's story is one for the history books.
The Doctor of Nursing Practice supports advanced-practice nursing professionals looking to develop organization and systems leadership skills to lead evidence-based quality improvement initiatives, improve patient outcomes, and advocate for policy change. Learn more about the School of Nursing and the Doctor of Nursing Practice.