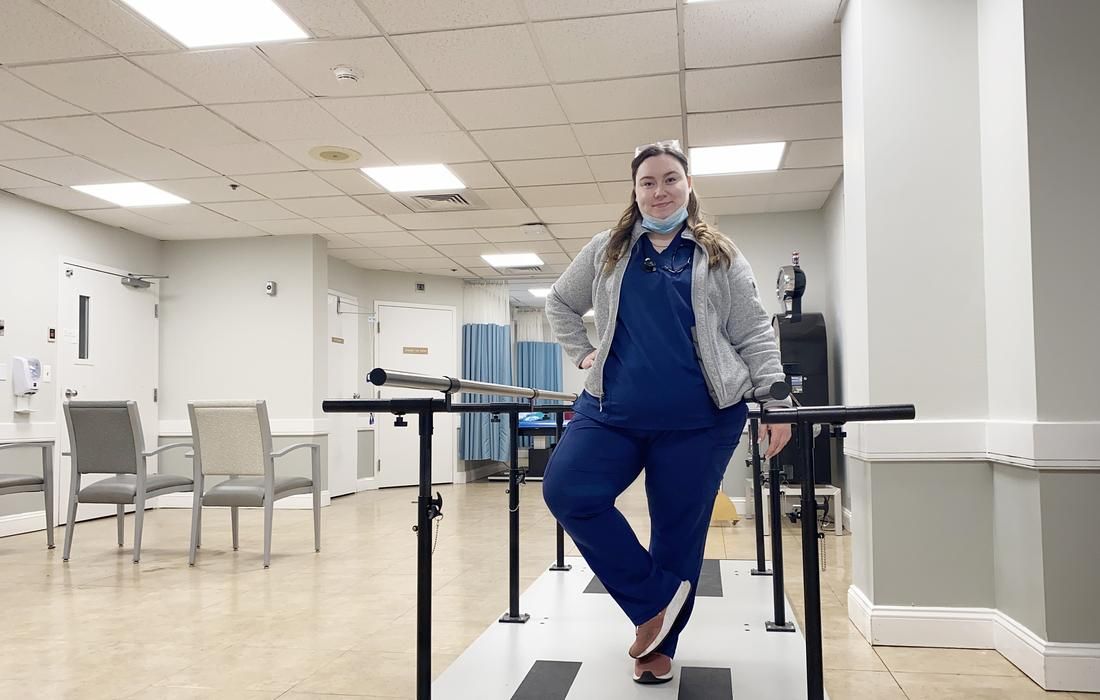 Alumni Focus | 4/10/2023
Physical Therapist Customizes Care with Foundation in Health Psychology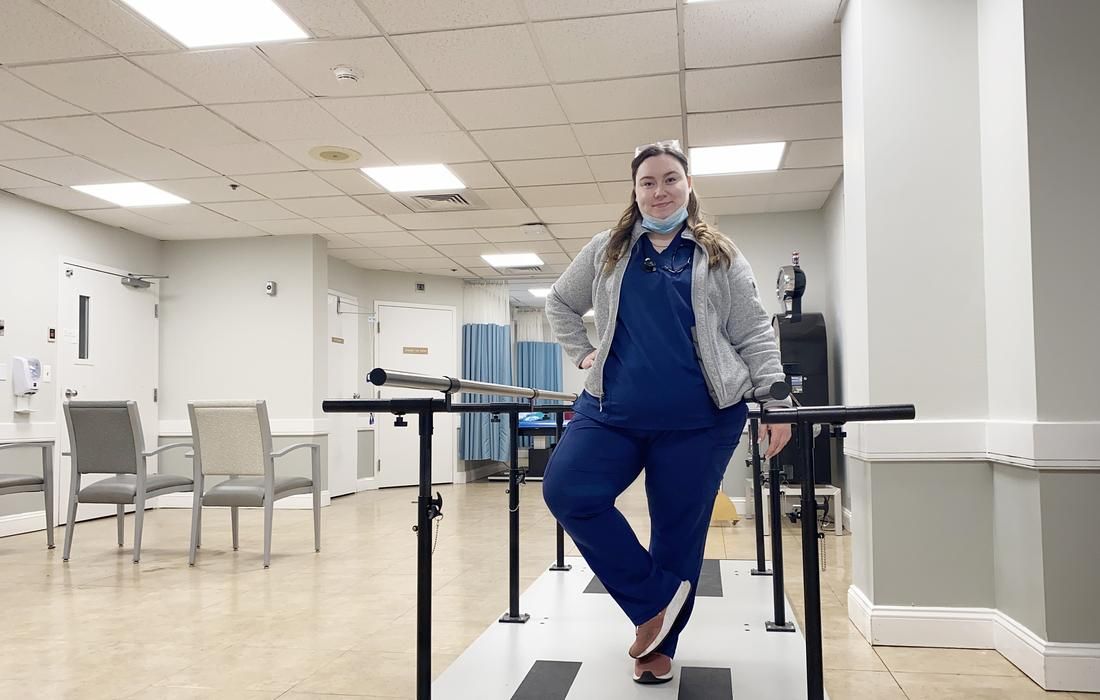 Cait Ofiesh helps patients adjust to their new normal after they experience traumatic medical events.
Cait Ofiesh, DPT '20, BS '18, will never forget the first time one of her patients walked again. The young woman had suffered a severe stroke. A staff physical therapist at CareOne in Peabody, MA, Dr. Ofiesh helped the patient rebuild her strength, relearn how to use her muscles, and adapt her home environment for independent living.
"The most rewarding part is seeing people through an entire plan of care until they are walking or wheeling out the door, ready to take on the next chapter of their life because of the work we did together," she said. "It's the best feeling in the world."
Dr. Ofiesh came to Massachusetts College of Pharmacy and Health Sciences (MCPHS) to become a physical therapist because she wanted to experience this kind of hands-on work. But she was also interested in health psychology and understanding her patients on a deeper level. So, when she heard that one of her classmates was creating a new pathway to earn their bachelor's in psychology followed by their Doctor of Physical Therapy in six years, she jumped on the opportunity.
"It makes sense to have a basis in psychology when you work one-on-one with people," she said. "So much of what I do is about physical rehab, but the mental rehab also plays a big part in a patient's recovery."
Now, Dr. Ofiesh works in subacute rehabilitation with medically complex patients. Many patients come to her directly from the hospital after experiencing a traumatic medical event, such as a brain injury, heart attack, amputation, or major surgery. Her undergraduate training prepared her for interactions with people processing major changes in their lives.
"We're teaching them from the ground up, going over how to get out of bed, how to care for themselves, and how to adapt to their condition," she said. "Every patient, every approach is different, and no two days are the same."
Most of her peers in the field have undergraduate degrees in biology or exercise physiology, not psychology. But they all agree that psychology is an important part of their jobs.
"In the health psychology program, I was exposed to different learning styles and hierarchies," she said. "I'm teaching people how to do things that they've done their whole life differently, and knowing how to modify the way I'm teaching them is a huge advantage."
One of Dr. Ofiesh's favorite parts of her job is the instructional piece, connecting with her patients and working with them to adjust to their new normal. She is now taking her teaching skills back to MCPHS, where she is an adjunct faculty member in the School of Physical Therapy.
"In school, I got a good idea of what impactful teaching styles look like and what makes an effective professor," she said. "I'm excited to have a hand in teaching the next generation of physical therapists."