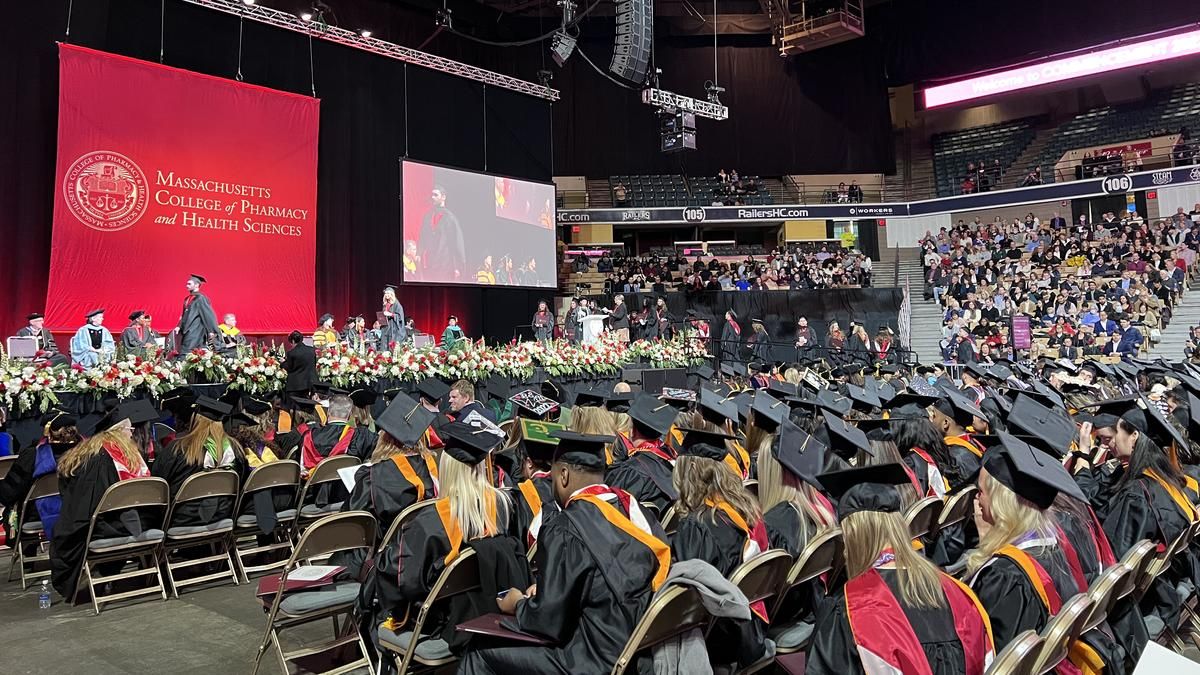 University News | 12/20/2022
Commencement Exercises Honor December Graduates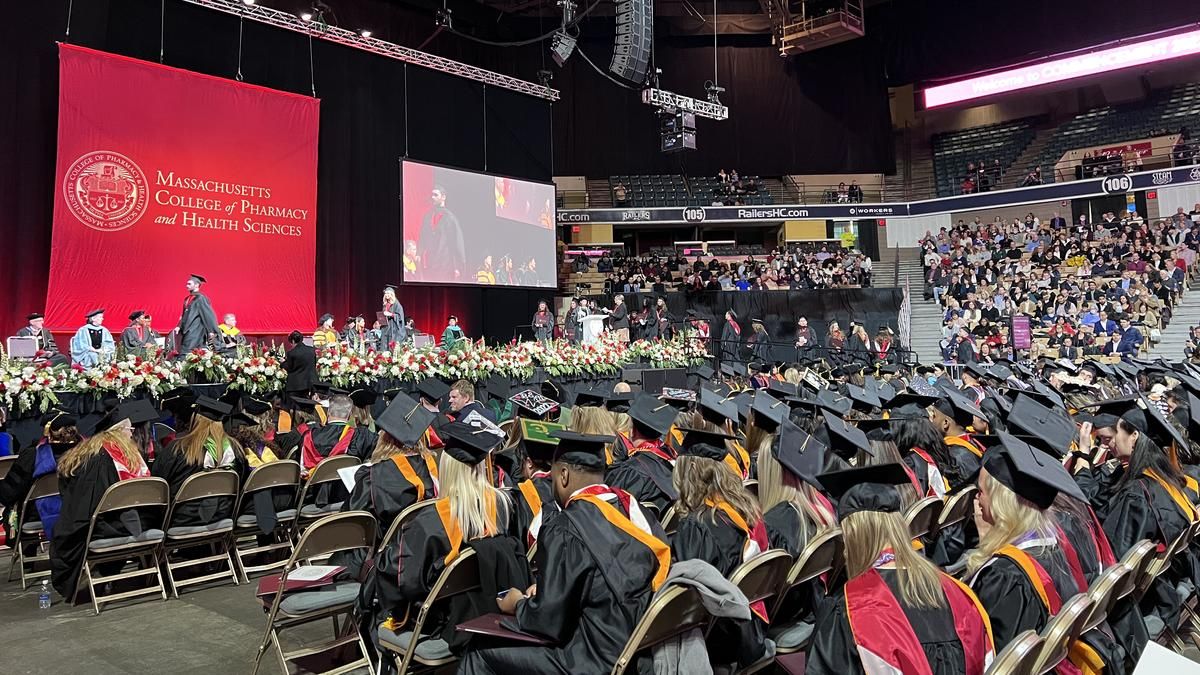 Commencement speakers encouraged graduates to forge their own paths and be proud of their accomplishments, now and in the future.
Excitement, pride, and hope filled the DCU Center in Worcester as hundreds of students from Massachusetts College of Pharmacy and Health Sciences (MCPHS) celebrated Commencement on Tuesday, Dec. 20. Families and loved ones, students, alumni, faculty, and staff filled the arena to join in the celebration.
"This is truly a special day in the lives of our graduates," said President Richard J. Lessard, who presided over the ceremony. "Given the challenges that you've faced individually and collectively, I'm confident that this will be one of the most memorable days of your lives. Enjoy and savor the moment."
The 400+ graduates in attendance earned degrees or professional certificates from 12 different programs. They studied within the Forsyth School of Dental Hygiene, the School of Medical Imaging and Therapeutics, the School of Nursing, or the School of Physician Assistant Studies in Worcester and Manchester, NH. The December graduates hail from 31 different states, 7 countries, and 1 U.S. territory.
Completing an education in the health and life sciences is an achievement unto itself, and for these scholars, their journeys are just beginning.
"This is your launch pad, not your final destination," said alumni speaker Giavanna Gaskin, MBA '21, Bachelor of Science in Public Health '18. "Lean into the unknown and allow yourself to be open to new opportunities."
Gaskin has spent her career working in Boston-area healthcare systems. She is currently a program manager in the Department of Obstetrics and Gynecology at Boston Medical Center, where she focuses on equity in pregnancy.
During the ceremony, she shared her own experience entering the workforce for the first time. She described having a difficult time finding her purpose and always feeling anxious about what was next in her career. Gaskin told graduates she is realizing how to accept success in every part of her journey.
"You might find yourself landing in a different place than you anticipated or taking a completely different route to get there than a peer," she said. "I am encouraging you all to avoid getting swept up in thinking about what is next and forgetting to appreciate where you are."
Adrianna Bergeron, Bachelor of Science in Nursing '22, Bachelor of Science in Premedical Health Studies '21, also encouraged her classmates to take this time to be proud of their journeys.
"Your timeline is yours and it belongs to no one else," she said. "No matter how many obstacles you encountered, I want you all to recognize that you overcame it, and we are here together in unity to celebrate."
Bergeron, the student speaker at the ceremony, shared that she persevered through situations in her personal life that threatened to set back her education during her time at the University. With support from the MCPHS Community, however, she was able to not only succeed, but thrive.
"I now feel unstoppable [and] I know many of you can relate," she said. "Wherever your journey takes you, make sure it takes you somewhere full of happiness."