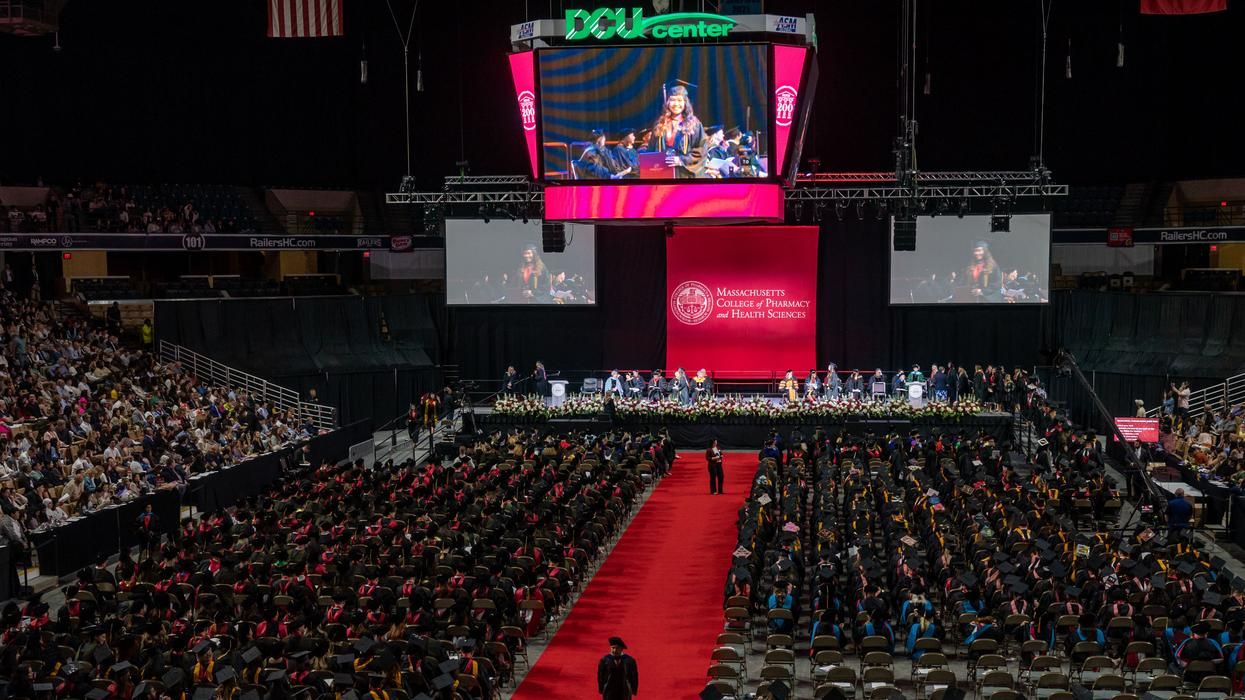 University News | 5/12/2023
'This is the Beginning': MCPHS Celebrates the Class of 2023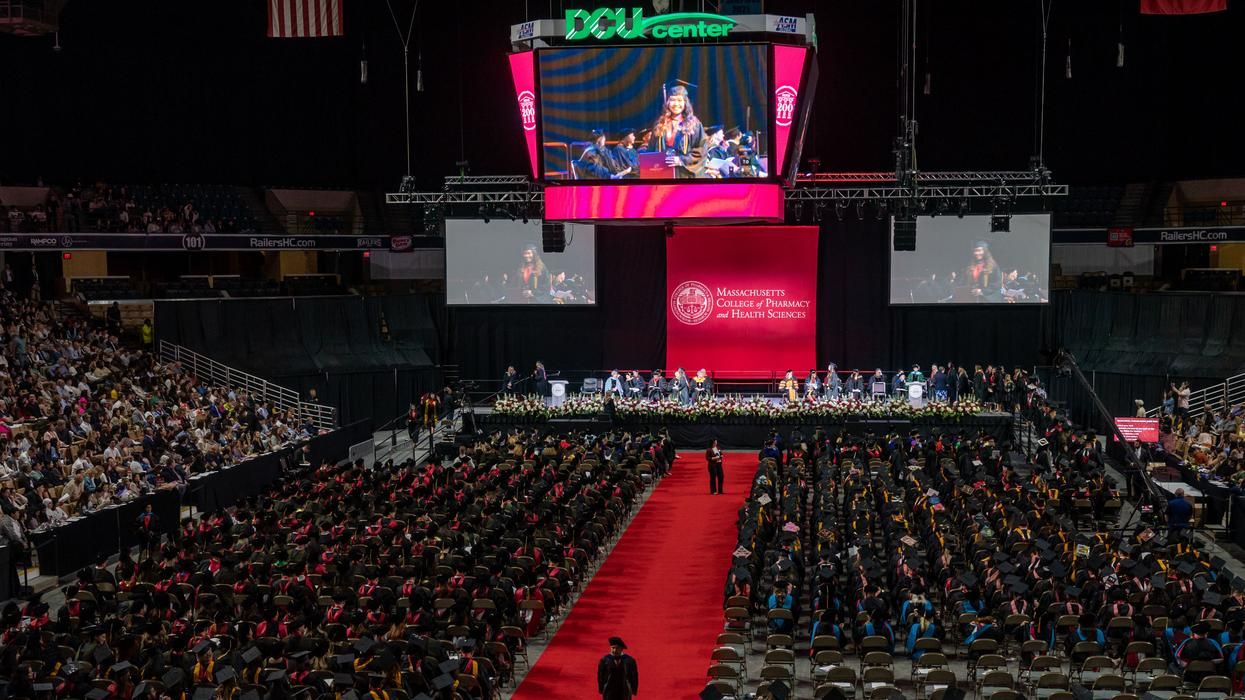 Commencement speakers encouraged graduates to use their training to make impactful change.
On Thursday, Massachusetts College of Pharmacy and Health Sciences (MCPHS) continued celebrations of its Bicentennial year with Commencement exercises for its May 2023 graduates. President Richard J. Lessard presided over the exercises, which were divided into two sessions to accommodate the thousands of families and friends, as well as MCPHS students, staff, faculty, and alumni who filled the DCU Center in Worcester to celebrate the occasion.
In each session, distinguished students and alumni addressed the graduating class. Sarah Das, PharmD '23, and Michael Ku, PharmD '96, spoke in the morning, while Ellie Solitro, PharmD '23, and Jideobi Ezeonu, MBA '20, MSOT '18, spoke in the afternoon. The speakers urged graduates to be proud of their achievements and to always pursue opportunities to learn.
"Today marks a new chapter in your lives and careers," Solitro said. "You have worked tirelessly to master the complexities of patient care and the art of healing. You are now joining a profession that is not just a job, but a calling to help others and make a difference in the world."
More than 1,800 individuals earned degrees or graduate certificates from MCPHS this spring. They represented more than 60 different programs across the University and are all equipped with the knowledge, skills, and experience to enact meaningful change in their fields.
"Each and every one of you is a living testament that you are capable of greatness, even in the face of hardships," said Das. "You've made it here through your own hard work and perseverance."
During the exercises, graduates heard from alumni speakers who reminded them to trust in the training they received at MCPHS as they enter the next phase of their professional journeys.
"This is the beginning," Ezeonu, said. "This is when the wheels come off and, in a way, you are on your own. That can be scary."
Ezeonu, a school-based occupational therapist for the New York City Department of Education, spoke to graduates candidly about what comes next. He encouraged them to trust in their MCPHS training, especially in the face of adversity.
"You will be exposed to problems you have never seen before, but you will be expected to figure it out," he said. "Mistakes will inevitably happen, and you will be hard on yourself. You may even get some tough criticism. But instead of pulling yourself down, take the opportunity to learn. Put bad days behind you and keep trekking forward."
For Dr. Michael Ku, Head of Global Clinical Supply in Pfizer's Worldwide Research, Development, and Medical division, forward was the only option when the COVID-19 pandemic began. His team members adopted a motto, "Delivering Hope," to stay grounded as they worked to deliver vaccines and medicine to people all over the world. It's a mantra he encouraged the graduates to also follow.
"There is greatness in you because you have dedicated yourselves to a career of caring," he said. "With your education and experience, I know you are kind, compassionate, and empathetic because you have devoted yourself to delivering hope for others."
Dr. Ku has dedicated his career to mentoring and supporting his fellow pharmacists in becoming leaders all over the world. He challenged graduates to do the same.
"My one ask of you is that as you move through life, pay it forward," Dr. Ku said. "Uplift and support one another, and when one door opens for you, hold it open for others."
"Uplift and support one another, and when one door opens for you, hold it open for others."

Dr. Michael Ku | Head of Global Clinical Supply in Pfizer's Worldwide Research, Development, and Medical division