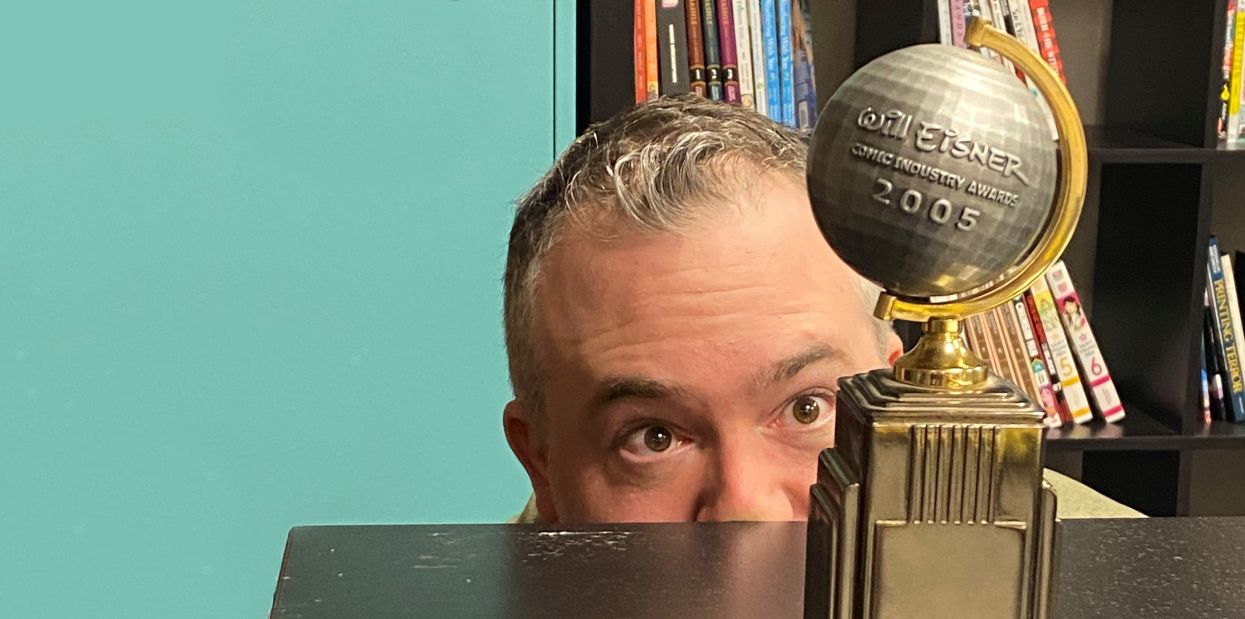 Community News | 7/19/2023
'I Leapt at the Chance': MCPHS Professor is Judge for the Oscars of Comics
By Maaha Rafique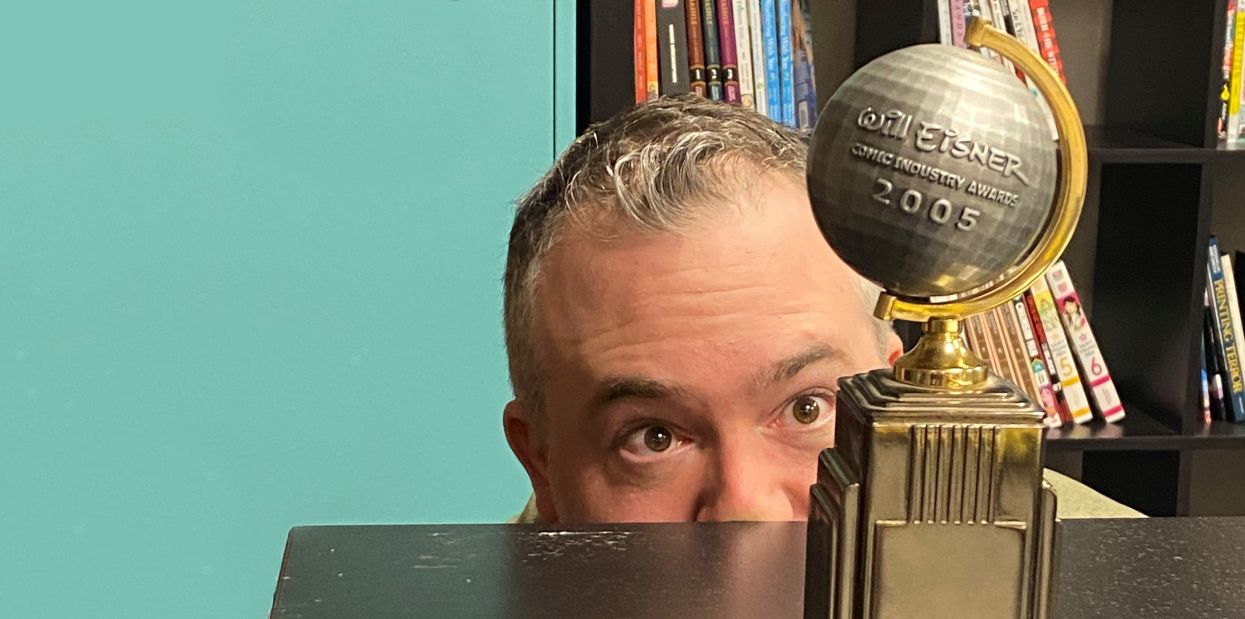 Dr. A. David Lewis' love of comics is a pursuit that enriches his teaching. 
The practice and pedagogy of health sciences take many different forms, even intertwining with the arts. A. David Lewis, PhD, knows this well.
At Massachusetts College of Pharmacy and Health Sciences (MCPHS), Lewis is Assistant Professor of English and Health Humanities in the School of Arts and Sciences. He teaches graphic medicine — the use of comics and art to disseminate information and narratives about health. MCPHS houses a large collection of graphic medicine works and even helped host the New England Graphic Medicine Virtual Summit in 2020.
This year, Lewis had a special responsibility. In recognition of his work in comics, he was chosen to serve as a judge for the 35th annual Will Eisner Comic Industry Awards. Presented at San Diego Comic-Con on July 21, the Eisners honor the top talent in the comic book industry. The awards are essentially the Oscars of the comic world.
"When they asked if I'd be available and if I could put aside a few months to read a whole slew of comics and then travel out to San Diego, I leapt at the chance. It was an honor," Lewis said.
Best of both worlds
For Lewis, serving as a jury member for the Eisner Awards was the best of both worlds. Judging required a blend of his scholarly knowledge of sequential visual storytelling with his personal passion for the medium. Lewis is also a past nominee, earning a nod in 2015 in the best Scholarly/Academic Work category for "American Comics, Literary Theory, and Religion: The Superhero Afterlife."
"In comics, there's a sequence of panels next to each other that convey narrative, and also words and images inside each panel, and that hybridity always appealed to me. There have been studies on what they do with our brains—triggering different hemispheres of the brain. They have their own grammar and visual language. I find that both fascinating and full of potential," he said.
After accepting the offer to be a judge, it was time to actually read the nominated comics. This year's nominees represent about 150 titles across 32 categories, such as Best New Series and Best Single Issue. At one point, Lewis was reading up to four graphic novels a day. Many of the works he read were intended for younger audiences, so sometimes going through the comics was a household activity as Lewis shared books with his children, asking for their opinions and pointing out comics he particularly liked.
The daunting task required some sacrifices. "I did have to get reading glasses for the first time," Lewis said.
From campus to Comic-Con
In addition to taking note of comics that interested him, Lewis considered whether the works he read effectively and innovatively used the medium, asking himself how the stories would be different if told as TV shows or films. He thought about target audiences and how the works he read, from choose-your-own-adventure books for children to narratives about Holocaust survivors, were shaped to resonate with different subsets of readers.
"One of the criteria we used was, 'How sticky was it?' Did it hold onto you in some way? In the end, it came down to a feeling. Often, I would just say to my kids, 'I like this one,' and hold it up," Lewis said.
When the books had been read, all the judges congregated in San Diego to deliberate, an experience Lewis likened to a bigger and more formal version of the casual conversation between enthusiasts that happens in comic shops and libraries. Over five days, judges gave input on each title and came to decisions as a group. Sometimes, those decisions weren't easy, and judges made some tough calls. Comics have a legion of passionate fans, which led to spirited discussions.
"Some people felt snubbed, and others felt we were insensitive to certain content or not as representative as we could have been. That's something that I've really learned from this process," Lewis said. "I already considered myself a very diligent reader, but I think it's made me a stronger and more cognizant consumer of comics."
In his classes, Lewis takes comic books as seriously as textbooks . He said his instruction often surprises students as they discover how much there is to analyze within the pages of a comic book. And the experience of being an Eisner judge is already enriching his teaching.
"Reading an intense amount of books in the span of several months has given me new ideas of what I can bring into the class. It's really updated my repertoire," Lewis said.