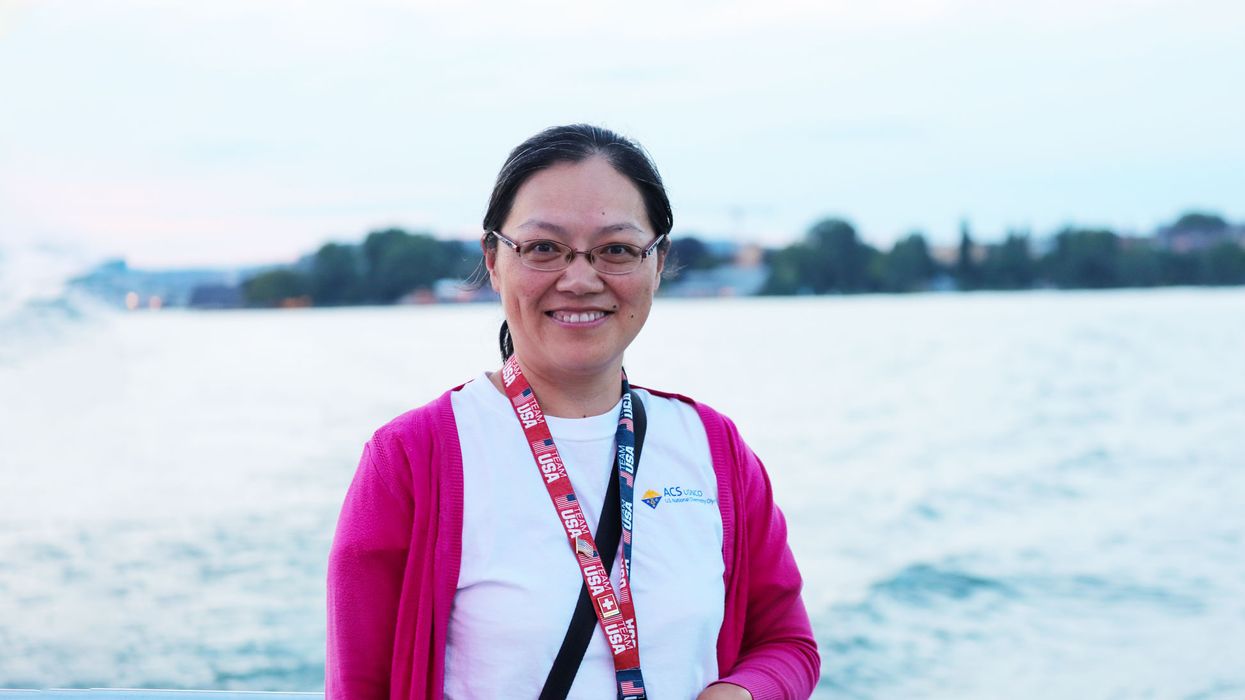 Faculty Spotlight | 8/31/2023
Winning Formula: Olympic Ambitions Send MCPHS Professor to Zurich for Global Science Competition
By Dana Barbuto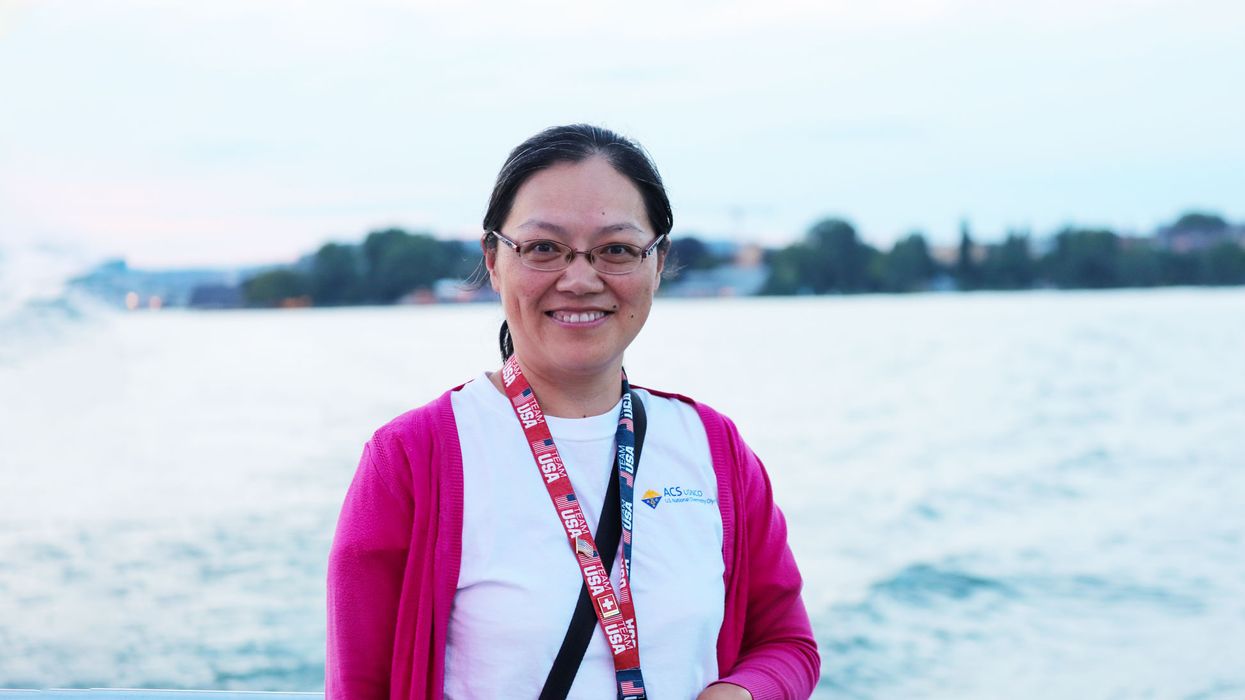 Songwen Xie is inspiring the scientists of tomorrow as a Team USA coach for the Chemistry Olympiad.
Dedication, concentration, stamina, determination. Those were the hallmarks of Songwen Xie's gold-medal game plan for the students competing in the 55th International Chemistry Olympiad (IChO) in Switzerland.
A PhD and Associate Professor of Chemistry at Massachusetts College of Pharmacy and Health Sciences (MCPHS), Xie was one of four coaches that the American Chemical Society (ACS) selected to train and mentor Team USA for the prestigious chemistry competition. The ACS has sponsored the American team since the U.S. joined the Olympiad in 1984.
"These are the greatest young minds in chemistry," said Xie, Director of the Bachelor of Science in Chemistry and Master of Science in Pharmaceutical Chemistry programs at MCPHS. "The material that the competition covered was challenging and very intense. Even my fourth-year students would find it difficult."
The IChO is an annual event for the world's top high school chemistry students. The competition included 348 students on teams from 89 countries vying for gold, silver, and bronze medals at the Swiss Federal Institute of Technology (ETH) July 15-25 in Zurich.
Students sat for two exams: A five-hour theoretical contest and a five-hour practical laboratory competition. The U.S. team won a pair of gold medals and two silvers. Members were Mingwen Duan from East Lyme High School in Connecticut, Alice Liu from Marquette High School in Missouri, Anurag Sodhi from Centennial High School in Maryland, and Phoenix Wu from Seven Lakes High School in Texas.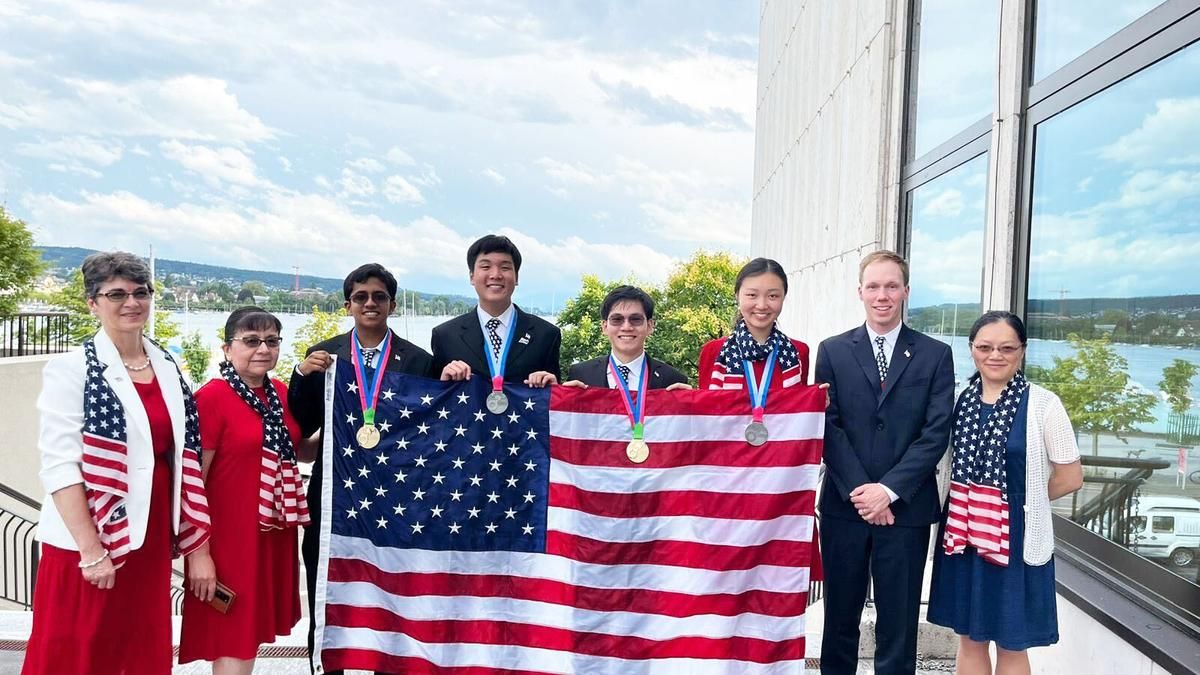 "We were one of the few teams to have a girl, and I'm proud of her," Xie said of silver medalist Alice Liu. "She's like a star in those groups. I want to encourage girls to be STEM majors because when you are out on the global stage like this, there are not that many."
The alternates were Sebastian Kumar from Tesla STEM High School in Washington State and Brian Li from Acton-Boxboro Regional High School in Massachusetts.
Team USA competitors were selected from a pool of more than 800 high school chemistry students. The final six emerged after a training camp for the 20 finalists in mid-June at University of Maryland. It was a grueling two weeks of bonding and Bunsen burners and grading exams until well past midnight.
"We ate together, studied together, lived in the same dorm together," Xie said. "In the mornings, we had lectures, and in the afternoons, we had lab training, in the evenings we had review sessions and other activities. It's a grind to prepare for five-hour exams. We also gave them three other tests and used those scores to select the top students."
Xie and the other mentors (Esther Hines from Billerica Memorial High School, Joseph Houck of Pennsylvania State University, and Laura Serbulea from University of Virginia) started preparations last September, meeting via Zoom once a month to devise practice problems, anticipate roadblocks and craft strategy. "The hard work paid off," Xie said. "We brought home four medals."
In Zurich, students and coaches took a break from proteins, peptides, and the Periodic Table to participate in the Opening and Closing Ceremonies, where Team USA dressed in red, white, and blue and waved the Stars and Stripes. Xie and her teammates also visited the Swiss towns of Lucerne and Rapperswil, took an excursion to Mount Säntis, and hopped on a sightseeing boat cruise around Lake Zurich. Xie also hiked around a "gorgeous" spot an hour outside the city in the village of Stoos.
"It was a great scientific, cultural, and social adventure," she said, adding that she was delighted to be captured on an IChO YouTube video wearing her MCPHS T-shirt. "I'm proud to represent the University on a global scale."
Xie had such a positive experience with her fellow coaches that she is already gearing up for next year's competition in Saudi Arabia. She will also return in 2025 to coach the Olympiad in the United Arab Emirates.
"Chemistry is taking me around the world," Xie said.