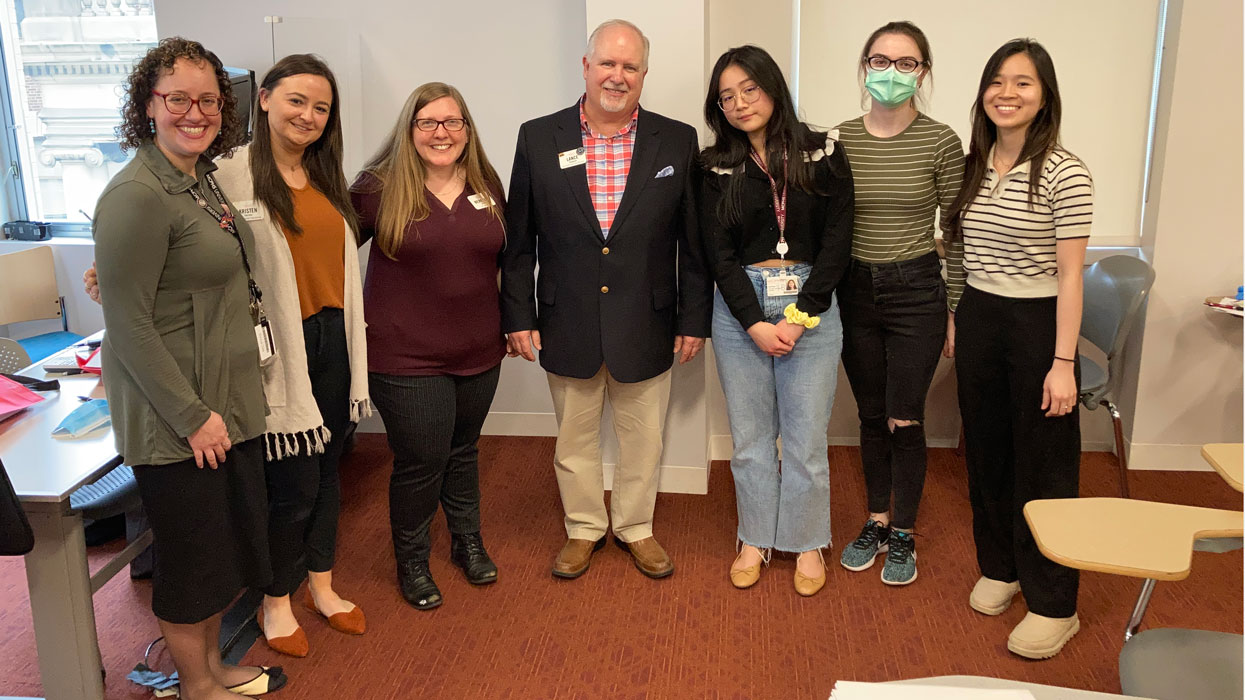 Community News
MCPHS Students Undergo Dementia Sensitivity Training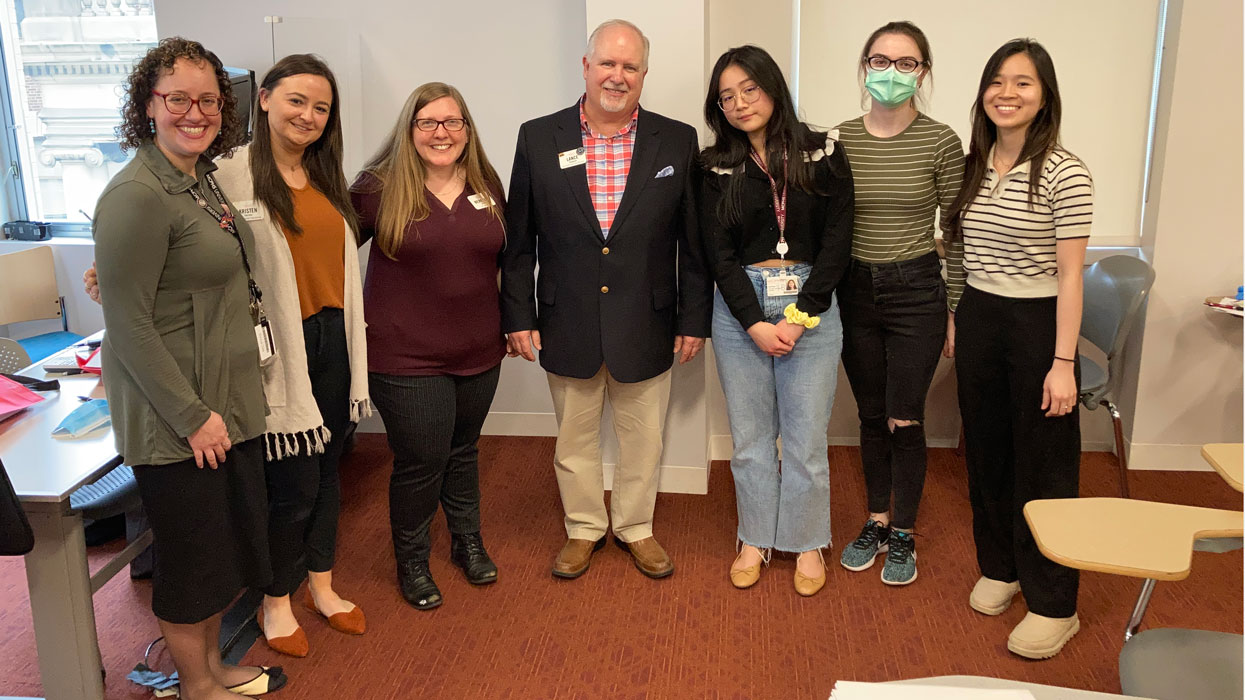 Imagine walking into a dark room with speakers blaring, earplugs in your ears, tape on your gloved fingers, popcorn kernels inside your right shoe. You are wearing sunglasses with tape in the middle of the bridge. Then you are asked to sift through your mail, find your electricity bill, and write a check for it. This is what MCPHS students stepped into when they attended an interactive Dementia Awareness and Sensitivity Training at the Goddard House, an assisted living facility in Brookline, MA.
Twenty-two students attended the training, which was led by Goddard House staff and organized by an MCPHS group called FASCO, short for Faculty and Student Community Outreach. FASCO focuses on using community engagement to supplement instruction that students receive in the classroom. Interactive experiences such as the dementia training can foster empathy and ultimately improve the quality of care that MCPHS graduates provide.
"It's the soft skill development that really helps us train holistic clinicians," said Assistant Professor of Pharmacy Practice Loriel Solodokin, PharmD, BCOP. Dr. Solodokin, a faculty advisor for FASCO, helped organize the dementia training. She recently received a certification as a Dementia Friends Champion through Dementia Friends of Massachusetts, a global initiative.
The experience began with the sensitivity training, which was followed by a presentation on dementia. Students first developed a sense of empathy for people with dementia by undergoing the interactive experience. The presentation then reinforced what they had learned and expanded on it.
"People will experience a decline in vision and movement of their hands and feet gradually as dementia progresses, and this training mimicked those symptoms," said attendee Anh Phan, PharmD '24. "The activities we participated in would be simple for a person with normal vision and normal extremities, but they would be so difficult for someone with dementia."
Phan said that she came away with a deep appreciation for the patience, compassion, and time required to care for a patient with dementia. During the session, she thought about her own grandmother and the toll that aging can take on individuals and families.
Oftentimes, family members are not aware that their loved one is experiencing symptoms of dementia. They continue to interact with the aging individual in the same way with the same expectations, which can lead to frustration. The Goddard House training sensitized participants to the signs of dementia as well as the changing communication needs of people living with dementia. Students also learned about the types of medical services and living conditions that may be required.
The Dementia Awareness and Sensitivity Training was paired with a community outreach event where students prepared a presentation about dementia for Operation P.E.A.C.E. at the Fenway Community Center.
MCPHS graduates will go on to work in a variety of healthcare settings, where many will serve seniors and their families. FASCO is doing its part to help the University train compassionate caregivers who can put themselves in the shoes of patients.
"This training really allowed our students to strengthen their empathy skills," said Dr. Solodokin.
Through FASCO, MCPHS Boston students and their professors increase health care knowledge in the community and promote student-community engagement. If you are interested in joining FASCO, please email fasco.mcphsu@gmail.com.