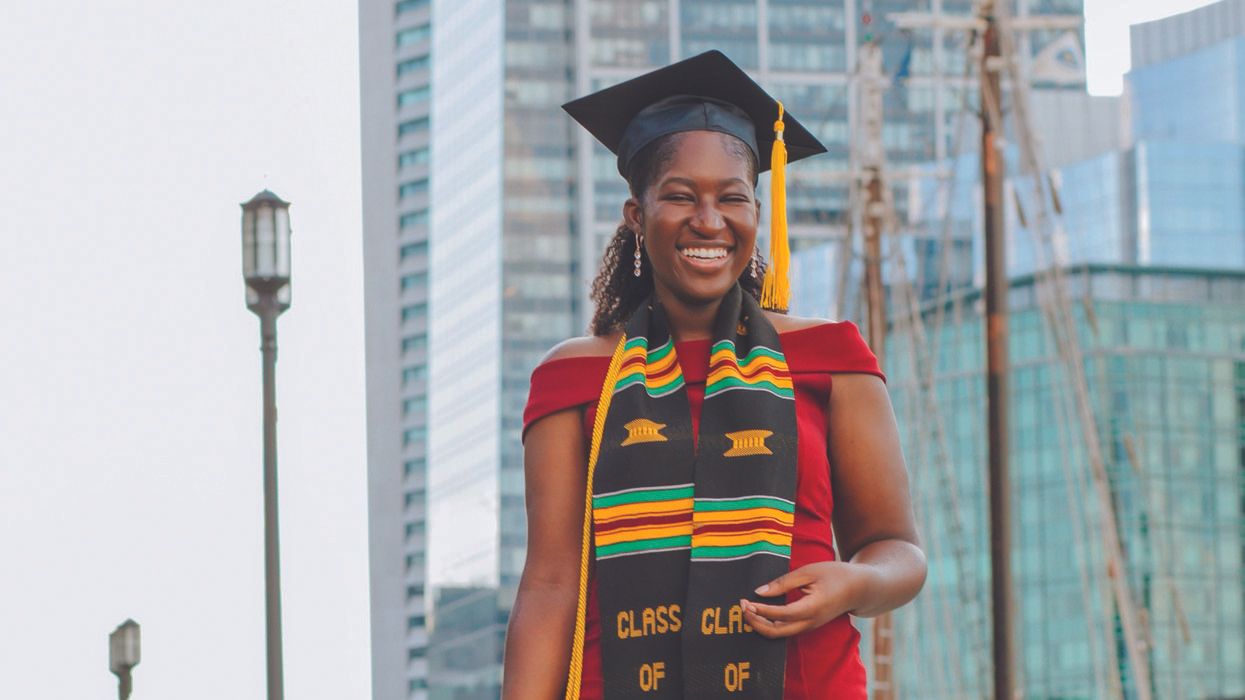 Student Spotlight, Alumni Focus
MPH Student Maame Esi Prepares for Medical School with a Public Health Perspective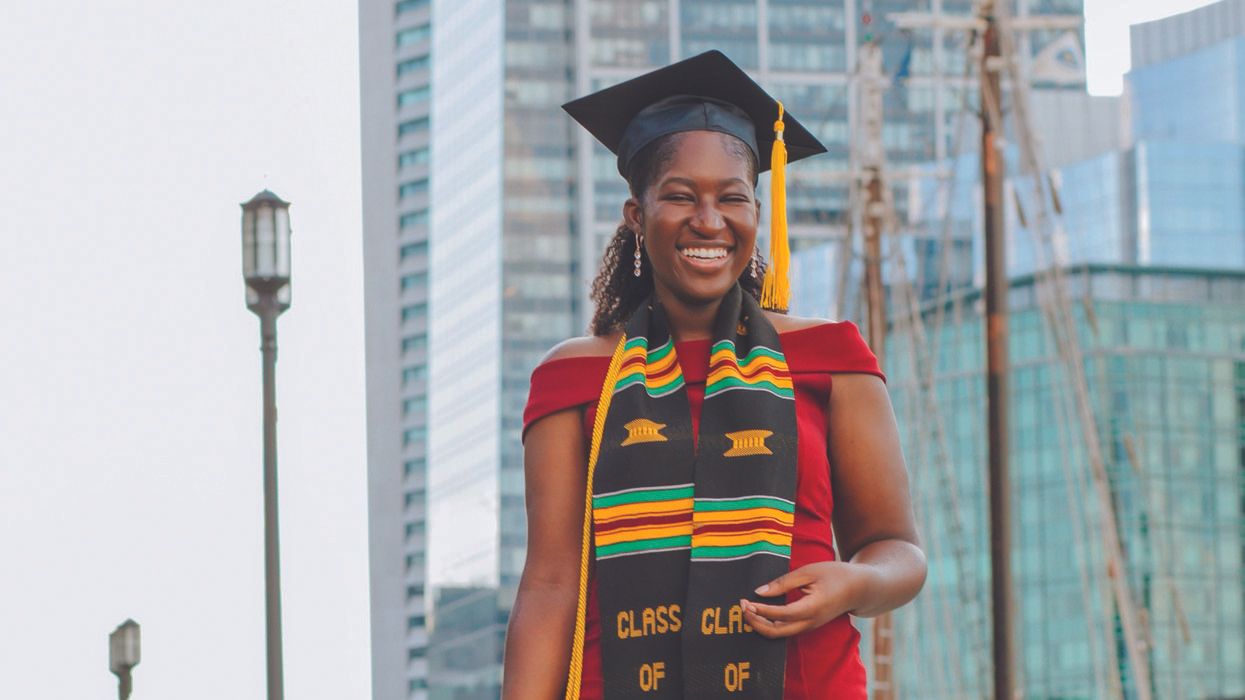 Maame Esi works full-time at Dana-Farber Cancer Institute as she prepares her application for medical school—but she is also a student in the Master of Public Health online program.
Maame Esi Adu-Asah is an alum of MCPHS's Bachelor of Science in Premedical & Health Studies '20 and a candidate for Master of Public Health '22. She grew up in Ghana with an ambition to become a pharmacist, so her uncle, knowledgeable about colleges across the globe, encouraged her to apply to MCPHS. Upon applying, she received a scholarship, which sealed her decision to commit. "I'm honestly really glad that I did, because I got to easily change my program, I got to meet so many amazing professors and people, and I got to do work that I was actually interested in," she says. "Obviously, I couldn't do a tour because I was in Ghana, but then I spoke to some people from the international office; they told me about MCPHS, and I was like 'okay, this seems like a good place to go.'"
After an internship with the Food & Drug Administration in Ghana during the summer between her first and second year, Esi realized that pharmacy wasn't the right field for her. The part of her internship that interested her most was when she was shadowing the head pharmacist at the hospital, giving advice to patients who were HIV-positive. "I'm more of a people-person," she says. "I like relating to people on a personal level. So, I just did a lot of soul-searching, and I realized that becoming a medical doctor was what I really wanted to do." Following that realization, Esi switched her major and earned her undergraduate degree in premedical and health studies with a minor in nutrition. She credits Professor of Biology and Founding Director, Faculty Mentoring Institute Janet Hart, PhD, for helping her switch majors and find the right career path. In addition to advising her on how to prepare for medical school, Esi says that Dr. Hart offered insight into the public health field. "She's definitely been instrumental into where I am right now because if I didn't speak to her, I don't think I would've switched from pharmacy to premed; and if that didn't happen, I wouldn't be doing public health," says Esi.
Esi's passion for public health had been developing for a while, but she didn't consider it as a potential career path until the summer after her second year, when she got involved with Director of the Bachelor of Science in Public Health program Keri Griffin, PhD, MPH, MPA, MCHES. At the time, Dr. Griffin was setting up the Center for Undergraduate Research. During her internship, Esi says she found herself doing a lot of public health research and came to enjoy the process. "I realized that public health and medicine are very intertwined. I know public health is more [about] prevention and medicine is more [about] curing, but then when they merge, I just think that they're both powerful together," she says. In her third year, Esi interned at Massachusetts General Hospital. She helped with their Emergency Medicine Network (EMNet) efforts, calling different emergency departments for statistics. This experience furthered her thoughts about a future in public health, so she spoke to her advisor, Assistant Dean, School of Arts & Sciences and Director of Pre-Health Professions Advising J. Alex Trayford, about what to do after graduation. She says that Dr. Trayford walked her through many conversations about public health and medical school and helped her figure out a path that matched her career aspirations. "Especially because I'm not home [in Ghana], coming to MCPHS and finding professors that actually helped shape my path was very important," says Esi. "I actually had mentors, people who were helping me throughout my whole process, and I'm very grateful for that."
Esi ultimately decided to apply to the Master of Public Health (MPH) program upon seeing the Advantage Scholarship for MCPHS graduates. "I decided to take advantage of it and I'm so glad I did, because I like how flexible the program is," she says. "...I started working this semester, and the professors have been so accommodating and understanding. I just love the fact that it's online as well. So, I can do that, I can work, and then study for the MCAT."
As an international student, Esi expresses the importance of the University's support system, especially among the faculty. For example, she was in Ghana when the semester started and knew she would not be able to meet an assignment deadline; she says her professor was "totally fine" with her need for an extension. "They really do understand if you have to submit things later, as long as you give them enough notice...and also, they are very forthcoming with explanations. When I don't understand something, I always email them to ask them to help me understand a topic or project that we have to do, and they explain it to the best of their abilities in such a way that I understand and know how to go about the work that I'm supposed to do."
With three semesters left in her MPH program, Esi says she will start studying for the Medical College Admission Test (MCAT) during the break before the summer session starts. She describes the self-discipline and self-paced structure of the online program as having helped her to manage her time and remote work in general. She says that her experience as a Radiology Authorization Specialist at Dana-Farber Cancer Institute has increased her interest in public health because she has seen how expensive scans can be, "...even with insurance. So, it just puts a lot of things into perspective." Focusing on healthcare disparities is something Esi aims to do with her public health career. Influenced by her internship in Ghana, she conducted a data brief on HIV/AIDS among the Black population in Atlanta for one of her MCPHS courses, Community Health Science and Practice. Although Esi says she is open to anything, her plan is to become a physician so that she can work directly with patients affected by issues such as healthcare disparities, and then use her public health perspective to perform research and bring her efforts to a broader scale.