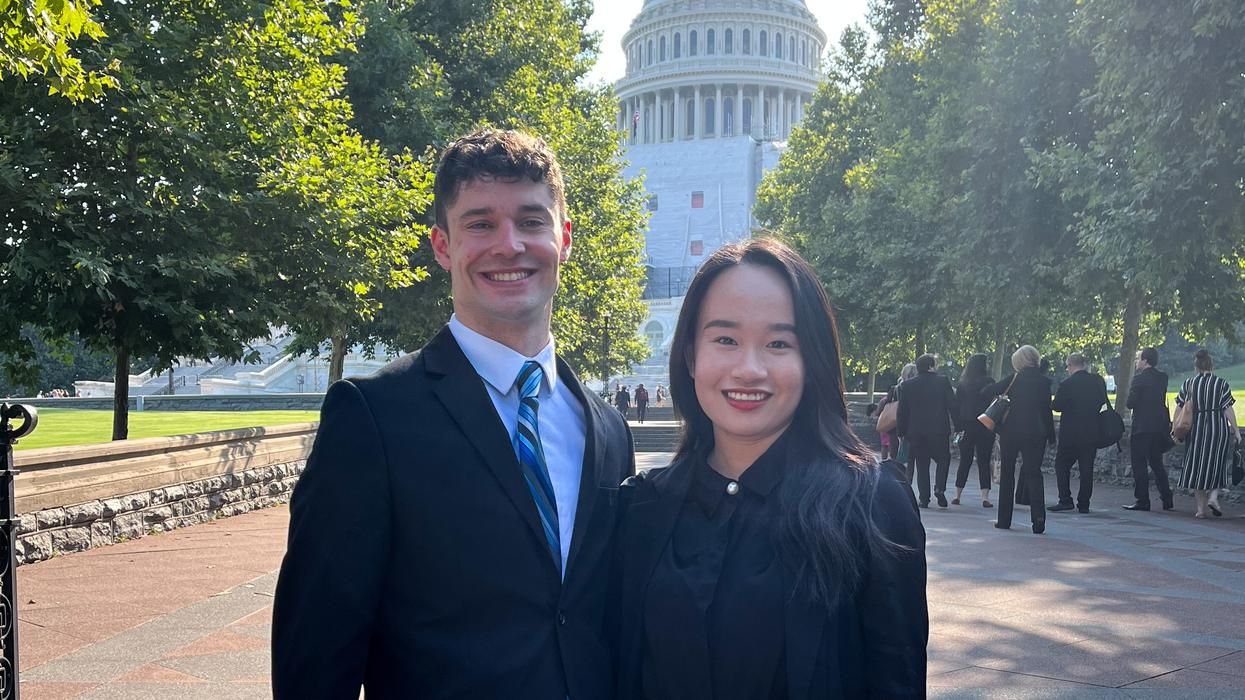 Student Spotlight | 8/14/2023
'Shining Outside the Classroom': PA Students Practice Advocacy in D.C.
By Jennifer Persons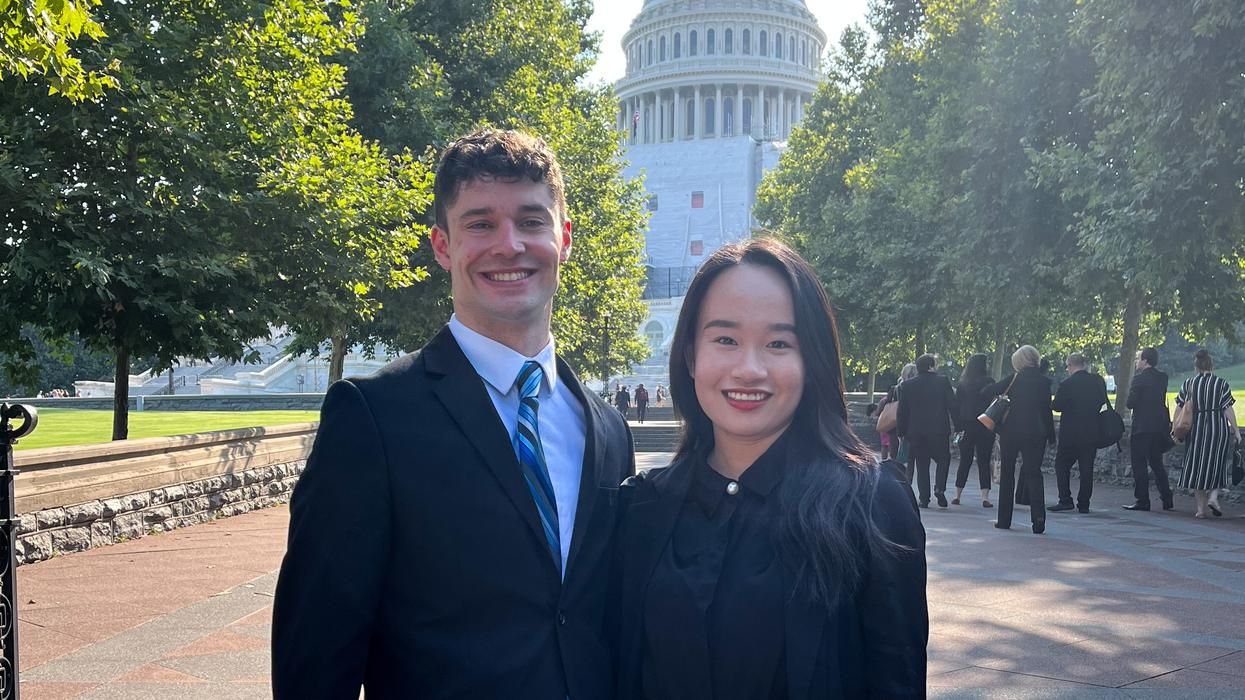 A group from the School of Physician Assistant Studies—Boston experienced the policy-making process firsthand at a national summit.
As they left a meeting in Senator Ed Markey's office, with the U.S. Capitol towering above them, Minh Tran, Dempsey Goodale, and Dr. Julie Hurley were struck with awe. They had been a part of the innermost workings of the federal government, asking lawmakers to support legislation to encourage practitioners to work in underserved communities.
"It was such a meaningful moment, not only for us but for all physician assistants and our communities," said Tran, Master of Physician Assistant Studies '25, BS '23.
This past July, the trio represented Massachusetts College of Pharmacy and Health Sciences (MCPHS) at the inaugural Physician Assistant Education Association (PAEA) Policy Summit in Washington, D.C. The summit brought together representatives from physician assistant programs nationwide, teaching them how to advocate for policies that affect them.
The summit focused on National Health Service Corps (NHSC) funding. This federal program—under the Department of Health and Human Services—offers student loan repayment for physician assistants and other healthcare providers who work in high-need communities. But on September 30, funding for the program expires. There are two bills currently in Congress to change that: one in the Senate, and one in the House of Representatives, each proposing millions of dollars for the program.
"Advocacy and legislation have a huge impact on our practice as physician assistants," said Goodale, Master of Physician Assistant Studies '25. "This experience changed my outlook on my career and the importance of community healthcare."
Building Their Team
Tran has always been engaged in advocacy and representation, serving as president of the MCPHS Intercultural Student Advocates. When an invitation for the summit came through her email, she jumped at the opportunity and asked her friend, Goodale, to join. He also had advocacy experience, participating in Lobby Day with the Massachusetts Association of Physician Assistants.
"I never saw myself doing anything like this on such a big scale," Goodale said. "I am passionate about getting funds and resources to communities that need it, and the NHSC program is one way to do that."
They also needed a faculty advisor to accompany them. They asked Julie Hurley, DSc PAS, MS, PA-C, who is an Assistant Professor and advisor of the Physician Assistant Student Society on the Boston campus. During the summit, it struck her how much impact their voices could have.
"I truly felt for the first time that members of Congress want to listen to their constituents," she said. "It was amazing to go into their offices with a new understanding of why advocating for our profession, as students and educators, matters."
Advocacy in Action
The first day of the conference was all about education. Tran, Goodale, and Dr. Hurley actively participated in training sessions about the impact of the NHSC, its funding sources, and the workings of the legislative process. They also learned effective advocacy tactics and talking points.
"No one knows better than us how beneficial this funding is," Tran said. "Lawmakers and their staff know the numbers and the advantages, but it's our job to tell a story about why it's important. That personal element is what they remember when making decisions."
The group met with staff at the offices of U.S. Senator Ed Markey, D-Massachusetts and U.S. Representative William Keating, D-Massachusetts, 9th District. Tran also had a meeting at the office of U.S. Representative Lori Trahan, D-Massachusetts, 3rd District, with a summit attendee from another university.
They left the meetings feeling heard and understood and confident their concerns would be addressed.
"The atmosphere was intimidating and empowering," Goodale said. "I felt extremely proud to be a part of the process by which our country runs."
The feeling was mutual for Dr. Hurley, who watched Tran and Goodale make the most of this formative experience.
"The most amazing part for me was the opportunity to watch our students truly shine outside the classroom and represent MCPHS so well at the national level," she said. "As we walked outside and saw the Capitol, it hit me that we had a part in what happens inside that building."
A few weeks after the summit and a visit from Tran, Goodale, and Dr. Hurley, Keating co-sponsored the House bill to expand funding for the NHSC. While it's now a waiting game to see if either bill passes, the group left the summit feeling inspired.
"I've always wanted to work in orthopedic surgery, and the summit really changed my outlook about how to start my career," Goodale said. "I now understand the impact of providing care to communities that need it most."
Tran said she also plans to advocate on a local level. "Advocacy isn't just about talking to important people about big issues. It's about who you are and speaking up for the things and people that matter to you."