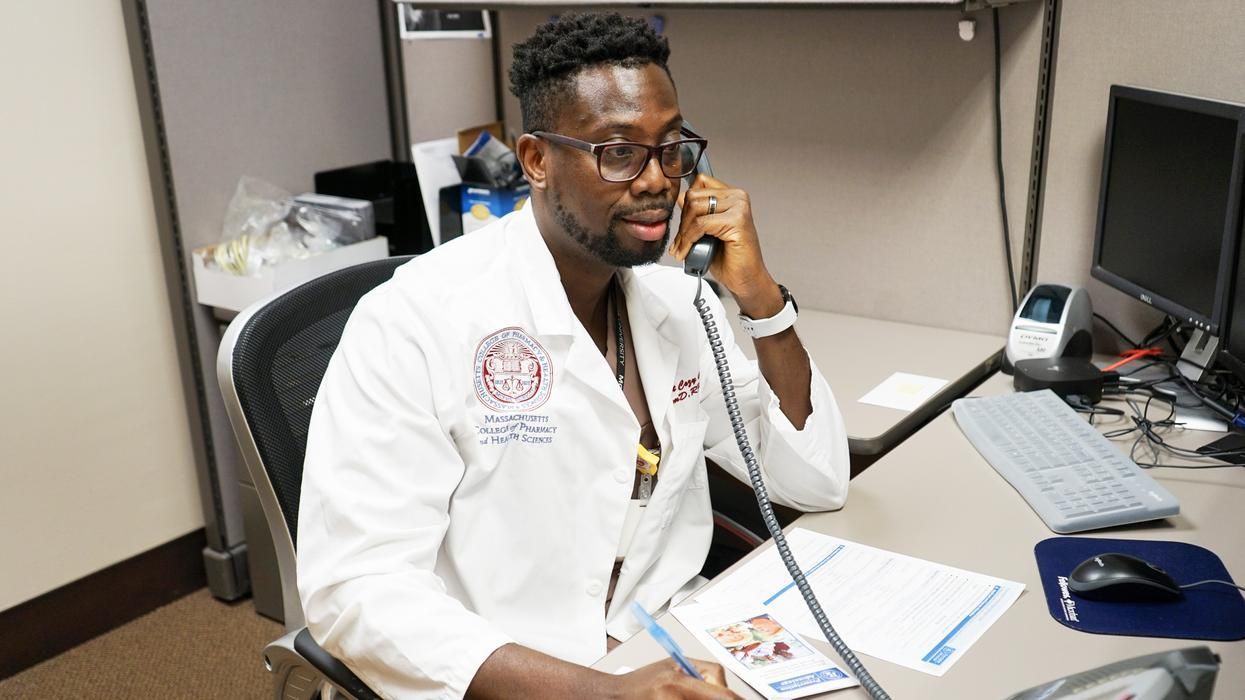 Faculty Feature | 11/6/2023
Motivate, Educate, Encourage: Pharmacy Alum Has Prescription for Success
By Jennifer Persons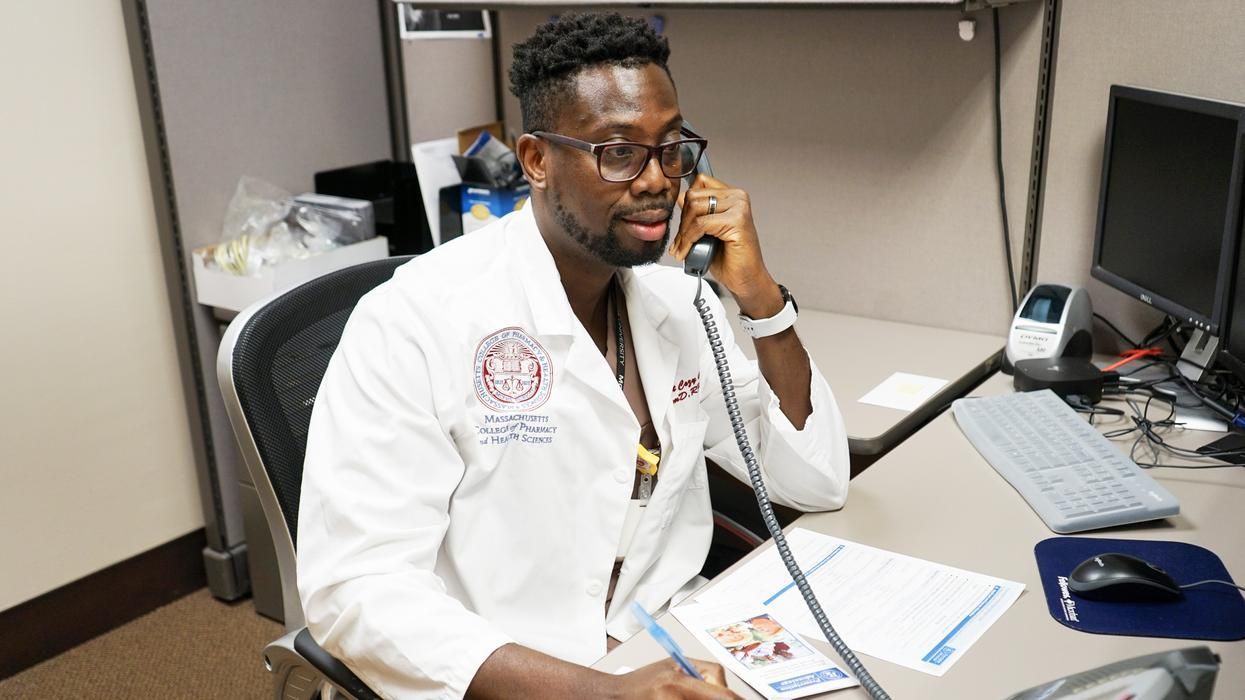 Long after graduation, Dr. Ernest Cozy Onyinah is making a positive impact on the MCPHS Community.
Dr. Ernest Cozy Onyinah joined the Pharmacy Outreach Program five years ago and never left. He said his work there—and the opportunity to mentor students to help people in need—is too important.
"We provide an information service," Cozy Onyinah, PharmD '18, MBA '20 explained. "We are not telling our clients what to do, but we're advising them about managing their conditions, medications, and financial concerns. We also empower them to go back and have these conversations with their providers."
The Pharmacy Outreach Program at Massachusetts College of Pharmacy and Health Sciences (MCPHS) provides free medication information to Massachusetts residents. When clients call, the staff reviews every medication the client is taking, checking for potential safety issues or harmful interactions. They can also help clients navigate the Medicare Open Enrollment period and lower medication costs.
Students and faculty at MCPHS know Onyinah as Dr. Cozy. He is originally from Ghana, where he received a pharmacy education. But when he moved to the United States in 2011, he needed an advanced degree to continue practicing. He wanted to do so as quickly as possible, which is how he found the Doctor of Pharmacy Program (PharmD) at MCPHS. He completed a few prerequisite courses before enrolling in the Worcester program in 2015.
"As a pharmacist, it's my job to answer questions and educate patients and their families about their medications and make sure they understand," he said.
After earning his PharmD, Dr. Cozy completed the Geriatric Pharmacy Fellowship with the Pharmacy Outreach Program. He enjoyed the mission and work so much that he has continued working there part-time. He also works in the pharmacy at Good Samaritan Medical Center in Brockton, Mass.
"I'm busy, but I enjoy what I do," he said. "I love the clinical experience and how much I learn in a hospital setting. I can tap into the database of knowledge there and use it to help my Pharmacy Outreach Program clients or even help students be better pharmacists. Everything comes full circle."
Dr. Cozy shared the biggest reason he continues working at the Pharmacy Outreach Program is to ensure people, especially the older generations, get the care and attention they deserve.
He vividly remembered one caller. She was retired and in an assisted living facility. She told Dr. Cozy she relied on Social Security and had only a few hundred dollars for all other living expenses after paying for housing.
"It stuck with me that an older adult had to go through that, especially when they worked so hard for so many years of their life, saved their money, and still can't afford their medications," he said. "It was sad, and I was glad I could be there for her and give her helpful information."
Dr. Cozy is also an adjunct faculty member at MCPHS, helping other pharmacy students with their coursework or any additional support they need from someone who went through the program.
"When working with students, I like to give them insights into how things work outside of school to encourage and motivate them," he said.
The interactions with clients, students, and peers keep Dr. Cozy motivated. And he knows the experiences he's gathered by being a part of the MCPHS Community will help him no matter where his career takes him.
"I'm happy where I'm at, but you never know," he said. "Anything can happen if it's at the right time and the right opportunity."
The Pharmacy Outreach Program provides information about medication safety, prescription drug costs, and Medicare coverage. To reach their staff, Massachusetts residents can call toll-free at 1.866.633.1617.