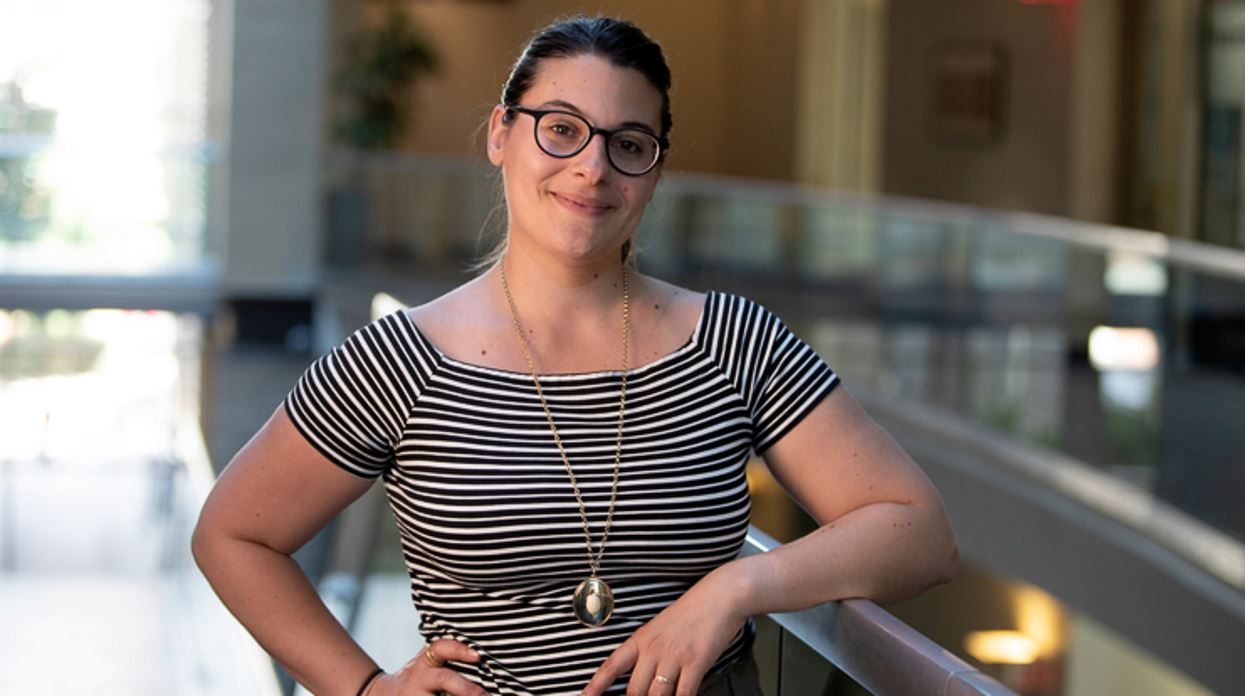 Staff Story, Community News | 7/12/2018
The Director of Residential Living and Learning on the Benefits of Living in University Housing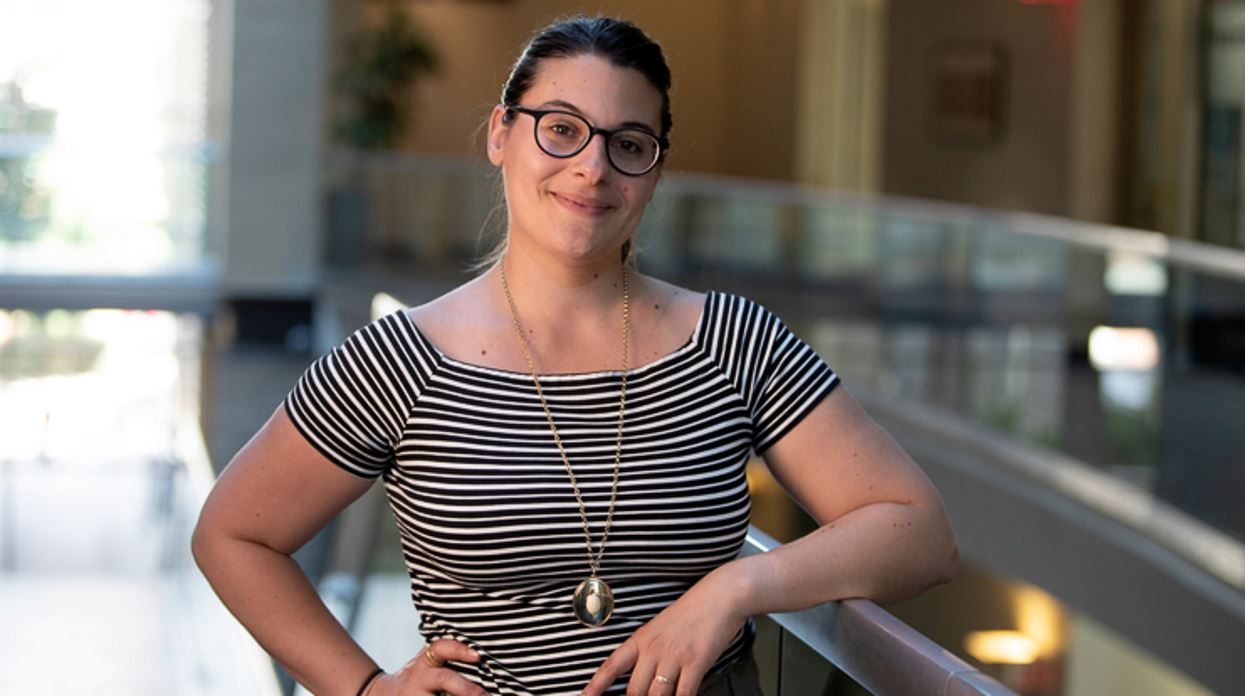 Irene Stefanakos, Director of Residential Living and Learning, shares many reasons to live on campus as she creates a welcoming and vibrant community in Boston.
Living in university housing is an exciting and positive experience. It allows you to gain independence, meet new friends, and get involved on campus. In fact, studies have shown that students who live on campus are more satisfied with their college experience, connect more with their peers and faculty, earn higher grade point averages, and are more likely to graduate.
Undergraduate students at Massachusetts College of Pharmacy and Health Sciences (MCPHS) are able to live in university-sponsored housing in a variety of housing options. Whether you live in one of our themed Living/Learning communities or in a shared residence hall with one of our Colleges of the Fenway (COF) neighbors, we think you will find that living in campus housing is an experience you don't want to miss out on.
Irene Stefanakos, Director of Residential Living and Learning on the Boston campus, agrees. "Living in a residence hall is a great way to connect with your peers and be very close to campus and all the activities featured," said Stefanakos. "It is living away from home with a safety net—a great way to explore and grow but knowing that there are people there to help if you need it. The proximity to campus allows students to take advantage of activities offered on campus, study with peers, and experience everything MCPHS has to offer while still being able to explore the city."
Want to learn more about residential living and learning at MCPHS? Read more from our chat with Irene below.
What is your role as the Director of Residential Living and Learning at MCPHS?
I oversee the residential living program. That entails several parts: working alongside the staff to create a healthy and safe living environment for our residents, training and supervising our staff, working collaboratively with our Colleges of the Fenway partners, connecting with resident students to resolve issues to help build a better living space, and keeping up with the day to day operations of our housing facilities, just to list a few.
I have been at MCPHS since August 2013 and started out as an Area Coordinator for our Shared Campus buildings. In 2016, I took on the Director role.
What other staff work in the Residential Living and Learning Office?
We have two professional roles in our office in addition to me; Area Coordinators and Graduate Assistants. Area Coordinators are full-time, live-in professionals who oversee a set of residence halls. They work directly with the RA staff to make sure each community is running smoothly. Graduate Assistants are part-time, live-in staff who work with the Area Coordinators to oversee a particular living area. The Graduate Assistants oversee initiatives such as Residence Hall Council and the Off-Campus Housing Workshop series.
We also have 24 Resident Assistants, which are undergraduate students between their second and fifth year of study at MCPHS. Each floor then has one to two RAs who are each responsible for up to 35 residents. They get to know their students and make sure they are well and help the students get to know each other through programs and community building. They also hold on call duties.
We have several student worker positions in the RLL Office as well. Desk Attendants assist with signing in guests and making sure all students who belong in each residence hall are entering, Office Assistants help in the various RLL offices, and Mailroom Assistants manage the operation of the mailroom, mainly in the Treehouse.
Can you tell us more about the Resident Assistants? What are some examples of the programming activities they do?
RA programs are a great part of the residential experience. Recently, MassArt and MCPHS RAs collaborated to host an activity where students created and decorated plaster masks of their faces, as part of the Da Vinci Living Learning Community. There are other fun programs, including movie nights with pizza, Super Bowl parties, or simply hanging out together as a floor. RAs have also had panel discussions with faculty and the Center for Professional Career Development about summer opportunities or what to do after graduating from MCPHS, and host group study sessions and study breaks.
You also mentioned Residence Hall Council. What is it and how do students get involved?
Residence Hall Council is similar to student council in high school. The group advocates for the different residential communities and plans events for the community. The positions are all elected and we usually hold a few information sessions with details on how to run for a position and how to campaign. Each hall is represented by a certain number of Hall Representatives and there is an executive board made up of a President, Vice President, Treasurer, Secretary, and Marketing Chair. Two returning students typically also join the board to assist in the transition.
Sounds like there are many exciting things happening in the residence halls! Speaking of which, can you tell us a little about each housing option available to MCPHS students?
The fifth and sixth floor of the Matricaria Building is apartment-style living and houses 120 students. Each apartment can house two to five students, though most are four person apartments. Each unit consists of two bedrooms, an open area with a kitchen and living room, and a private bathroom. There are a few common areas on the floors for students to relax and hang out as well.
Fennell Hall is our most beloved residence hall, its traditional design lends perfectly to community building among the floor. Each floor features double, triple, and quad rooms along a corridor with a large shared bathroom on each floor. Fennell houses 180 students and is conveniently attached to the academic buildings of MCPHS.
The Treehouse is a MassArt residence hall that is shared with MCPHS. It houses 200 MCPHS students and about 350 MassArt students. The Treehouse is suite style, meaning there are typically two bedrooms that share a bathroom space. Each suite can house between two and five students in double or triple rooms. The building also has a common space on the third floor with a small gym, community kitchen, and sitting area with a pool table.
The Residence Hall at Emmanuel College houses 260 MCPHS students. The building is made up of mostly four person apartments that include two double bedrooms, a full kitchen, living room, and in-unit laundry. There are a few studio apartments in the building as well. On the ground floor, the building will have common space for students to enjoy.
The housing options sounds great, but what if a student is interested in themed, living communities to enhance their housing experience?
We have four different Living Learning Communities (LLC). LLCs are a great way to build a deeper connection with your floor while exploring shared interests. Each LLC will have specific events and activities to enhance the student's experience at MCPHS.
Two of our LLCs are academic-specific, meaning students of the same or similar majors live together, form study groups and tutoring sessions, and have opportunities to connect with professors. Generally, one is pharmacy focused and the other is health sciences focused.
The Livin' Well LLC focuses on healthy mind, body and spirit and allows residents to pursue a healthy lifestyle while living in the residence hall.
The Da Vinci LLC is a new collaborative juncture with MassArt for this year. This LLC allows students to explore the intersections of where science and art meet and to work together through different conversations and projects among their respective disciplines.
What is the neighborhood like? Are there stores nearby where students can buy groceries, dorm supplies, materials for class projects, etc.?
We live in such a fun area! There are stores for everything you will need in the Fenway neighborhood, just a 15-minute walk from most of the residence halls. With the recently opened CityTarget, you do not have to go far for all your needs. The Fenway neighborhood also has amazing restaurants, coffee shops, shopping, and museums. There is even a park, known as the Emerald Necklace, where you can walk, run, play a game of kickball or Frisbee, or enjoy the beautiful blooms in the Kelleher Rose Garden.
And don't forget, we are right on the T's Green Line with easy access to the entire city!
What is your biggest piece of advice for students who live in MCPHS housing?
Be open to new experiences. Everyone is new to this and comes in a little scared and uncomfortable—and that is okay! You will grow and learn in your time at MCPHS and especially from the time you spend living on campus.
Your home away from home is waiting for you at Massachusetts College of Pharmacy and Health Sciences (MCPHS). Learn more about Residential Living and Learning and discover a variety of residential options designed to fit every personality.