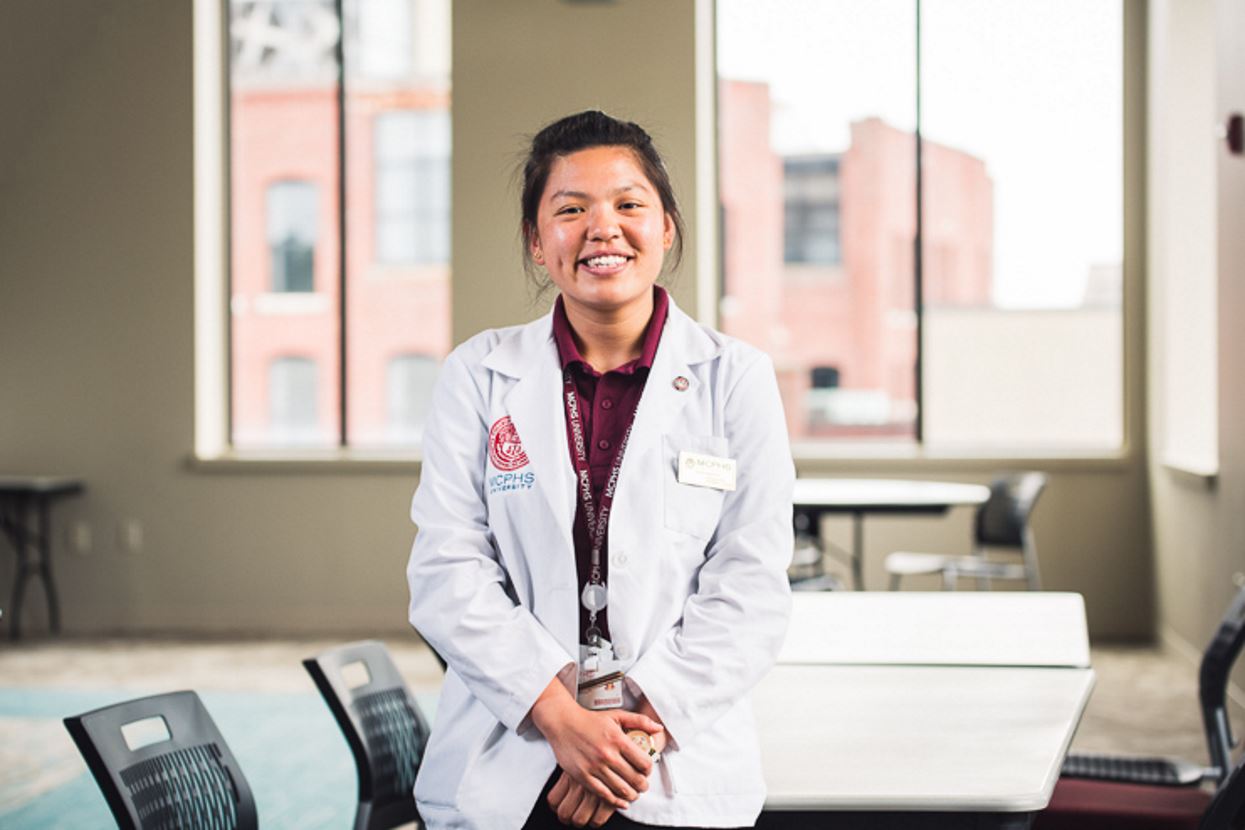 Student Spotlight
Alumni Spotlight: Kimberly Hor, PharmD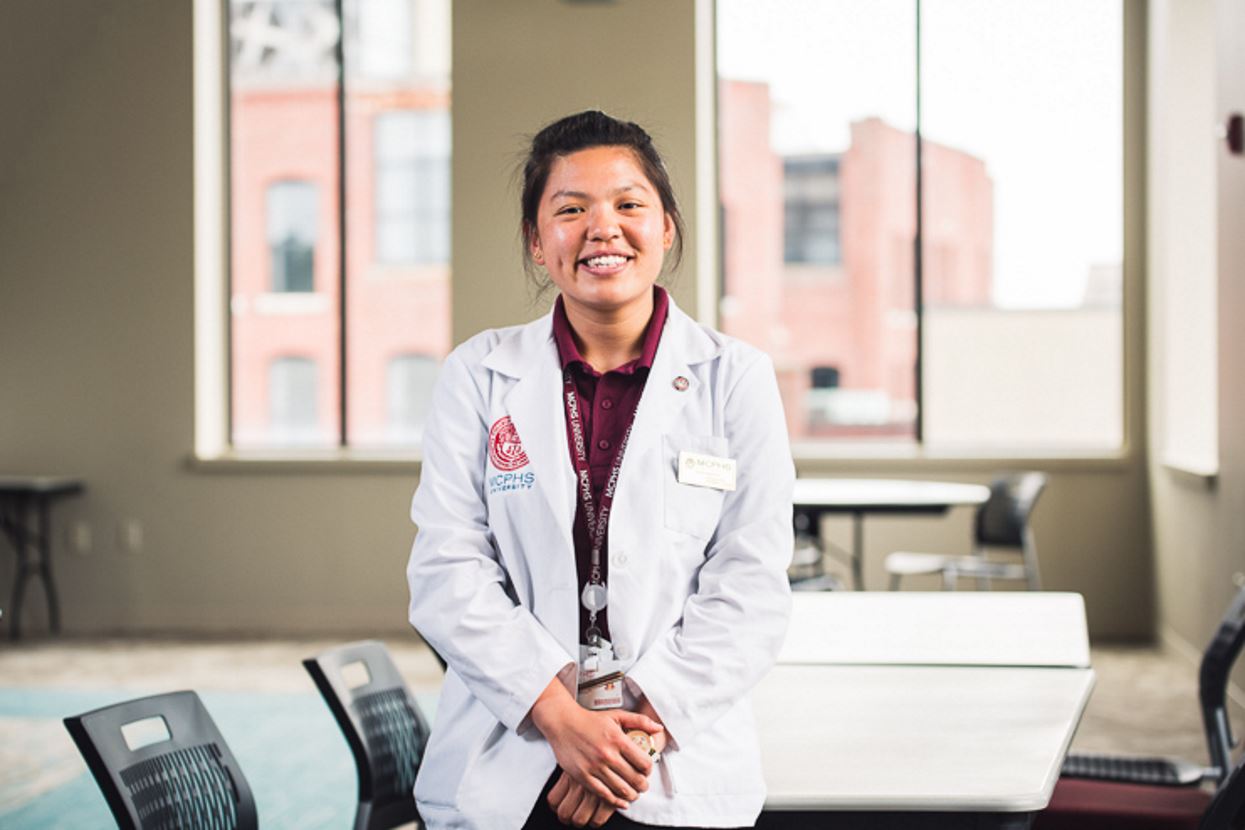 Kimberly Hor, PharmD, discovered her passion for pharmacy in a surprising place: during a shadowing experience for physical therapy school. Originally enrolled in a six-year Doctor of Physical Therapy program, Kimberly found her curiosity about pharmacy sparked by exploring how the medications her patients were taking affected their PT regimes. She began to ask questions.
"I stumbled upon the vast job opportunities in the pharmacy world," said Kimberly. "It's not only limited to the retail and hospital settings, which was my original mind-set. There are opportunities in the pharmaceutical industry, in compounding, in medication safety, in ambulatory care, and in pharmaceuticals, just to name a few."
Kimberly was inspired to take the next step. Having earned her bachelor's degree in kinesiology, she took a gap year before pursuing her PharmD at MCPHS–Worcester, where the accelerated degree program and the University's professional connections appealed to her. "MCPHS was definitely one of the best universities in terms of resources and postgraduate fellowship programs," said Kimberly. "The University has many fellowship programs that are affiliated with pharmaceutical companies."
Kimberly also sought a university with a close-knit community focused on professional development.
"MCPHS is a health sciences–based graduate school," said Kimberly. "This minimizes the distractions that a joint undergrad/graduate school may have. Everyone at this university is focused on their future profession, and the work ethic here is awesome. There is a heightened sense of respect, as well as plenty of opportunities to work with and meet people from other professions."
Kimberly believes that the interprofessional environment at MCPHS is directly preparing her for her future career as a healthcare professional. "MCPHS provides a realistic view of how healthcare professionals should work hand in hand with each other toward the common goal of improving patients' health," she said.
She points to the interprofessional education experiences available as another way the University prepares students for successful careers. "During these interprofessional experiences, all the students at MCPHS get together to discuss topics that will affect patients, such as the opioid crisis," said Kimberly. "This gives us a chance to learn from other students from different fields and provides for healthy discussions that allow us to solve problems using different perspectives."
Now in her second year of the program, Kimberly is gaining hands-on experience in the pharmacy labs on the Worcester campus. "I did not have any retail experience before I started pharmacy school," she said. "It may be intimidating at first, but the pharmacy practice faculty do a great job at preparing students for the lab. The experience has helped me practice and has also equipped me with skills that I will need when I go out on rotations."
Kimberly plans to use her advanced pharmacy practice experience rotations to discover her exact career path, but her goal is to first attain a postgraduate residency training opportunity, with her dream role being as a clinician in a hospital setting.
Getting involved outside the classroom
Kimberly's life at MCPHS goes beyond classrooms and textbooks. As a resident assistant (RA), she works to build a sense of community through programming, activities, and support for her classmates.
"I lived off campus my first year at MCPHS and found myself missing the community lifestyle I had in undergrad," said Kimberly. She now lives and serves as an RA at Lancaster Street, where students enjoy private bedrooms and spacious living areas.
"I love that Lancaster is away from the main campuses where all the classes are," she said. "It provides for the privacy and quiet lifestyle that I am searching for, but also lets me be part of a community that I can depend on."
Serving as an RA allows Kimberly to enrich the lives of her classmates, something she enjoys. "I try to create a welcoming environment for everyone, so that all the residents need to think about is excelling in school," said Kimberly.
Part of her role is dedicated to developing residential living programming, oftentimes in collaboration with other organizations and departments on campus. From s'mores night to volunteer projects, Kimberly is always working on new ideas.
"I love putting on programs that help residents rest and relax," she said, "and I try to host events that are diverse and cater to all groups of people. When residents show up to one of my programs and appreciate everything that was done, it is the most fulfilling experience. I never get tired of it!"
Beyond the residence halls, Kimberly points to the city of Worcester for additional opportunities. Originally from Singapore, she likes that Worcester is close to big metropolitan cities such as Boston, which is conveniently accessible via commuter rail.
"MCPHS is located in downtown Worcester, and it is very convenient when it comes to eateries," said Kimberly. "There are supermarkets within walking distance from our housing as well. Parks are also not too far away, which makes it good for a run or relaxation."
The Accelerated Doctor of Pharmacy program, offered on our Worcester, MA, and Manchester, NH, campuses, empowers students to earn their PharmD in just 34 months.