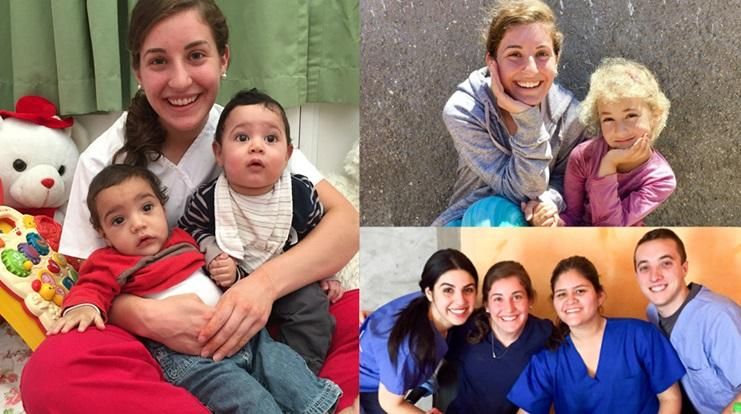 Student Spotlight
Arianna Maida, Premed/PA, Puts Compassionate Patient Care into Action in Morocco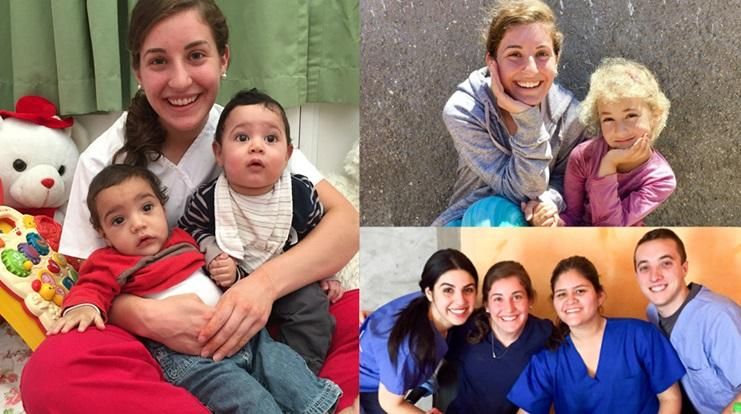 Arianna Maida, Premed/PA, is focused on compassionate patient care, which is why she takes the time to personally connect with every patient she sees.
"In healthcare we often tend to lose sight of the basic human connection that must be established with patients before getting down to discussing the patient's history, test results, diagnosis, and treatment," said Arianna. "There is a story behind every patient, and it is our responsibility as clinicians to understand the full picture of the patient as a whole person, not just their physical condition."
Ariana was able to put this passion for making personal connections into action during a service learning trip to Morocco. The Volunteer Morocco program, which is operated by the Center for International Studies at MCPHS, is designed to give students an in-depth look at the healthcare system in Morocco and provides opportunities to serve under resourced communities.
This was Arianna's second trip abroad through the Center for International Studies. She previously traveled to Peru for a volunteer trip that included service learning in community health centers, local villages and schools.
Arianna's experiences abroad have been invaluable in her growth as a student and future healthcare provider. "Volunteering abroad has taught me that a good clinician must carefully listen to their patients and ensure that the patient completely understands the care plan in order to meet each patient's unique individual needs," said Arianna.
Reflecting on her experiences in Morocco, Arianna points to a newfound awareness of international healthcare systems and explains why this awareness is beneficial for healthcare specialists of all backgrounds. "I think experiencing a different healthcare delivery system other than the U.S. version is essential to understand how to seek improvement in our own healthcare system and also appreciate it," said Arianna.
Serving those most in need in Zagora
Part of Volunteer Morocco's mission is to provide students with the opportunity to help underserved populations through service learning.
Reflecting on this commitment, Arianna and other members of the Volunteer Morocco team traveled nine hours from Agadir to a village called Zagora, which is located in the Sahara Desert. Here, members of the program helped staff a rural health clinic for locals with limited access to healthcare.
Arianna and other members of the Volunteer Morocco group were responsible for measuring blood pressure, blood glucose, blood oxygen levels, and heart rate. They worked closely with local volunteers who spoke both Arabic and English to understand the health needs of each patient and then directed them to healthcare specialists, including ophthalmologists, gynecologists, ENT (ear, nose, and throat) physicians, primary care physicians, and pharmacists, as needed.
For Arianna, the experience was an introduction to the varied needs of a population that usually has little to no access to healthcare. "We saw patients ranging from newborns to elders with various ailments, especially difficulty with vision, daughters concerned about their mothers' declining health, and mothers concerned about their children's overall health," said Arianna.
For many of the patients at the clinic, receiving potentially adverse test results was unnerving – and oftentimes confusing. Arianna describes how many female patients with high blood pressure would come back to request a second reading, hoping that they would receive better news. "Villagers were eager for us to report a better blood pressure reading but misunderstood that the readings were most likely not going to change within an hour," said Arianna.
Arianna points to a need for education on proper nutrition as a way to combat systemic high blood pressure and blood glucose levels.
Arianna's experience in the clinic also represented an important opportunity to shadow a local physician and glean insight into the health issues experienced by locals. One common health issue Arianna observed at the clinic was directly related to the environment. "The optometrist explained that the high volume of villagers with low acuity in vision and eye conditions impairing their sight is due to their consistent exposure to the dry and windy climate of the Sahara," said Arianna.
Arianna points out that public health is affected by a myriad of environmental factors, extending far beyond the harsh climate of the desert landscape. "We tend to forget that the conditions of the environment we live in are directly connected to our health. The number of neighbors we have, green space to exercise and relax in, the safety of the area, and access to nutritious food and clean water all contribute to maintaining a healthy lifestyle free of disease," said Arianna.
Arianna suggests that public health is the best way to address these disparities. "Sometimes treating certain diseases and conditions isn't the solution to disparities in healthcare," said Ariana. "Instead, we need to get to the root of the problem, such as reducing poverty and making it easier for locals to access healthy food and clean water."
For Arianna, the opportunity to provide healthcare and education to members of a community most often left to fend for themselves was an extremely meaningful experience. "The villagers were so thankful to be cared for and listened to and to receive medical attention when they are usually the ones caring for themselves, their families, and their neighbors day by day," said Arianna. "We are so fortunate to live in an area where access to healthcare is not an issue, as medical technologies and professions are rapidly advancing."
Witnessing interprofessional healthcare in action in Agadir
The Volunteer Morocco program also provides students with insight into private healthcare settings in Morocco.
Arianna shadowed a gynecologic surgeon and an orthopedic surgeon at a private clinic in Agadir. Arianna explains that the patients who receive care at these types of private clinics are usually middle class and are able to afford the cost associated with surgery.
As she observed, Arianna was impressed by the dynamic of the healthcare team. "Before the surgeries, all the doctors, nurses, and surgical assistants met in a common area and discussed their patients of the day over Moroccan tea," said Arianna.
She was struck by the seamless collaboration of the healthcare team. "The members of the healthcare team worked in sync with each other and with immense teamwork, precision, focus, and ease," said Arianna.
What's more, she found that the teamwork lent itself to a positive work environment. "Throughout their procedures and intense hard work, the team members also seemed to be having fun and truly enjoying what they do," said Arianna.
The shadowing experience allowed Arianna to see a truly collaborative, interprofessional healthcare team in action and to discover how integrated healthcare teams can better meet the needs of patients.
"We observed from one of the surgeons that not every procedure will be performed as planned and human error and imperfections happen, but these challenges are overcome with the help of other providers in various healthcare professions," said Arianna.
Through this experience, Arianna has identified an area she may wish to specialize in. "I've shadowed surgeries before, but my experience at this clinic in Morocco sprouted my interest to want to possibly specialize in surgery as a physician assistant," said Arianna.
Looking to the future
Arianna says that her experience in Morocco has increased her passion for working with underprivileged populations and communities with limited access to healthcare and basic education.
"The experiences and knowledge I have gained have created a lasting impact on my life and career goals as a future physician assistant," said Arianna. "My experiences in Peru last summer and Morocco this summer are preparing me to become a more well-rounded, empathetic, and culturally competent healthcare provider and person."
Arianna explains that service learning abroad, especially serving underprivileged populations, can be a vital experience for healthcare professionals of all backgrounds. "No matter where you practice and what specialty you choose, it is important to learn how to relate to your patients, especially those who have a different lifestyle than your own," said Arianna.
As Arianna prepares for her future as a physician assistant, she says she will draw on her time abroad as inspiration.
"Despite the physical, environmental, or healthcare differences a culture and community have, it is important to go back to the basics and remember why we go through years of schooling and service learning experiences," said Arianna. "We do it to become exceptional healthcare professionals, but more fundamentally, we do it out of a desire and passion to simply care for others, in hopes of providing those we serve with a healthier lifestyle and education on preventive care."
The Center for International Studies at MCPHS provides MCPHS students with global educational and professional opportunities, including the Volunteer Morocco program.