Center for International Studies
Centers for Excellence
MCPHS: A Global University
Healthcare is global. So are we. Every year, we welcome more than 900 international students from 60+ countries who travel to MCPHS to study. And every year, we send students off-campus to participate in hands-on healthcare experiences around the world. MCPHS faculty have forged collaborative relationships and research partnerships with healthcare professionals and institutions in every corner of the globe. Those networks give MCPHS students the opportunity to participate in life-changing service learning trips, student exchanges, and clinical rotations in vibrant cities and remote villages from London to Agadir, Morocco. The Center for International Studies (CIS) is a hub for these activities and hosts events and global speakers to promote cross-cultural learning and understanding.
The World Needs MCPHS Now
MCPHS students, faculty, and alumni put their skills and knowledge to work wherever in the world they are needed. MCPHS supports them all with a robust set of resources.
Service Learning Student Blogs
MCPHS students who participate in service learning trips abroad document their experiences.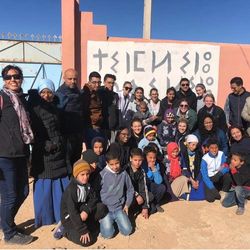 Brittny Hamilton & Ariel Vernadakis
| Morocco Winter Trip
"After settling in Agadir for 2 days, we embarked on our journey to the mountains making our first stop in Tiznit village… We began setting up supplies for the big rural health clinic the following day where hundreds of people lined up to see various doctors… Moroccan patients we saw had conditions of high blood pressure, cataracts, poor oral health, and urology issues, which was very eye opening for our group. We also saw many smiles… which melted our hearts knowing that we were touching lives!"
Hieu Tran '23 wins Harvard Stem Cell Institute Internship
The medical and molecular biology major from Vietnam is conducting research on therapeutic techniques for autism and schizophrenia.
Healthcare Leaders with a Passion for Teaching
At MCPHS, cutting-edge scholarship and professional affiliations go hand in hand with instruction and mentoring.
Learn About the Other Centers for Excellence at MCPHS