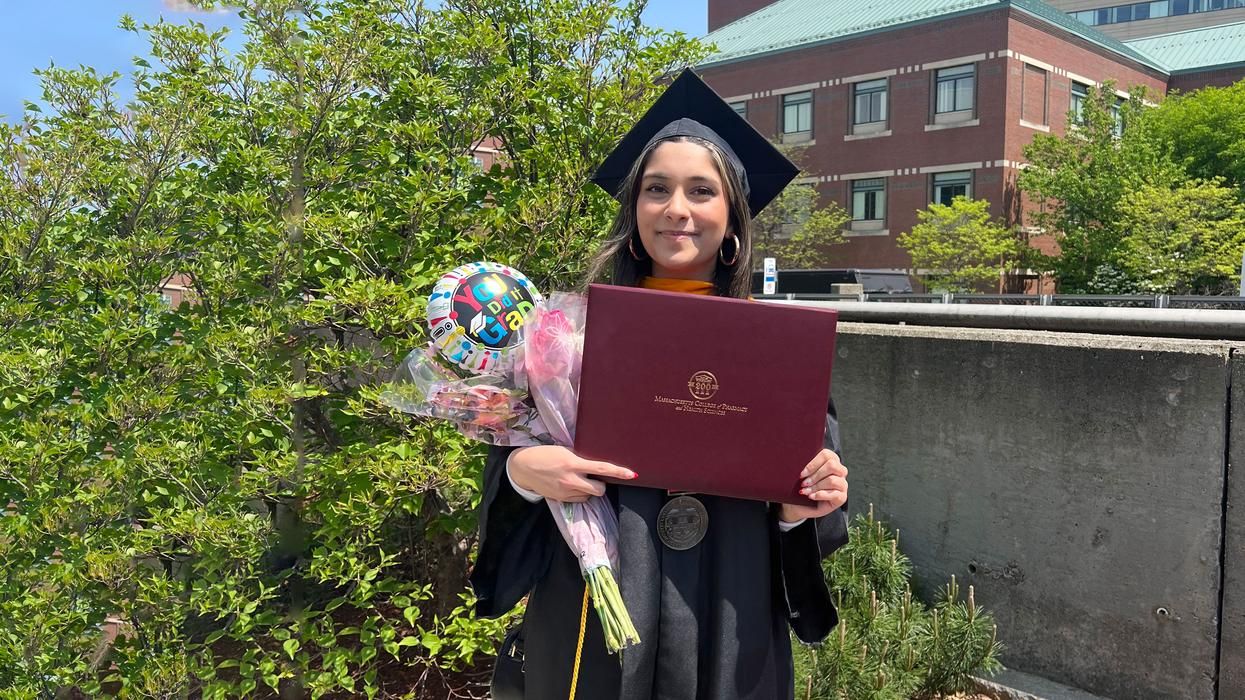 University News | 5/18/2023
Making History: MCPHS Awards Bachelor of Arts Degrees to Health Humanities Graduates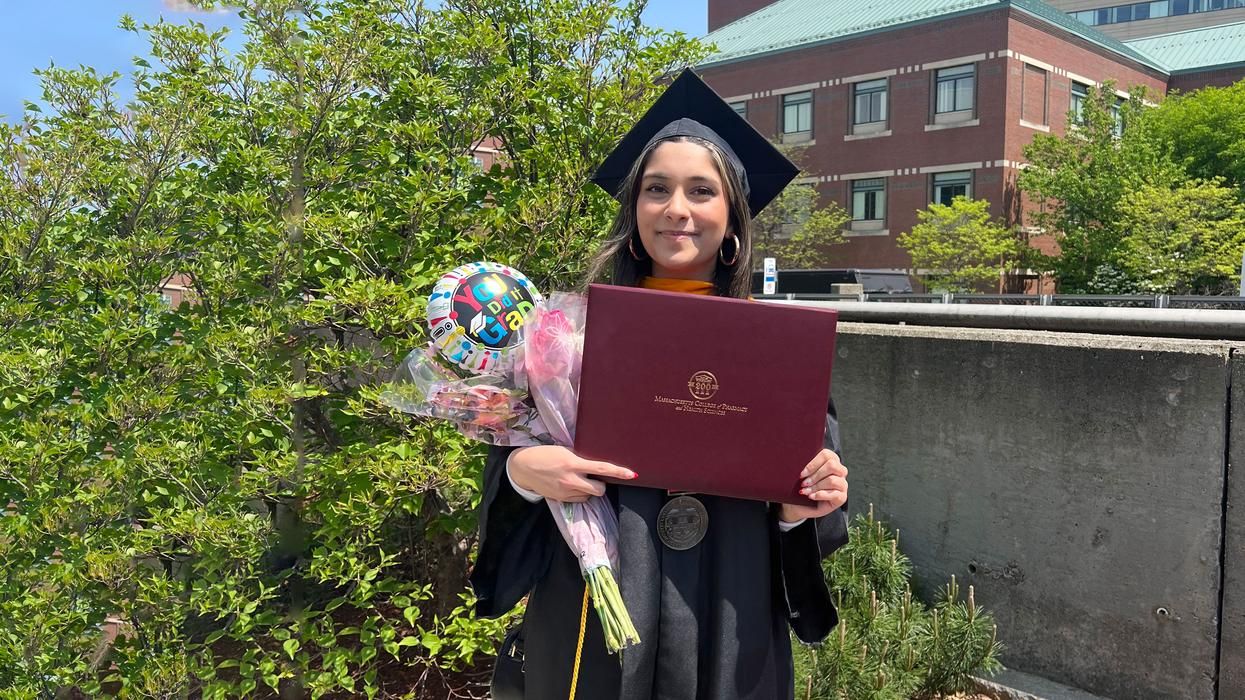 Three members of the Class of 2023 are the first to ever receive Bachelor of Arts degrees from MCPHS.
For the first time in its 200-year history, Massachusetts College of Pharmacy and Health Sciences (MCPHS) is awarding Bachelor of Arts degrees. Three members of the Class of 2023 will receive them: Niki Hamidi, Emily Lopez, and Sawliha Kidwai, the first students to complete the Health Humanities program.
"I am so proud of these students," said Carol-Ann Farkas, PhD, director of the Health Humanities program. "Not only are they incredibly smart, but they are also caring, thoughtful people who will use their talent to make a difference in the world."
The Bachelor of Arts in Health Humanities program was approved in 2021 and is the first and only standalone health humanities undergraduate degree in New England. The coursework covers subjects such as art, sociology, philosophy, history, and biology, so students can gain a more holistic understanding of a person's health. Health humanities programs are becoming more popular at healthcare universities around the world.
"In this modern era, practicing healthcare is a lot more than just the science of the body," Dr. Farkas said. "Health humanities students are empowered to advocate for changes to the system that help people navigate their health better."
These first three graduates all came to MCPHS to pursue a career in healthcare, and the University introduced them to a fast-growing field that aligned perfectly with their passions and interests. Here are their stories:
Niki Hamidi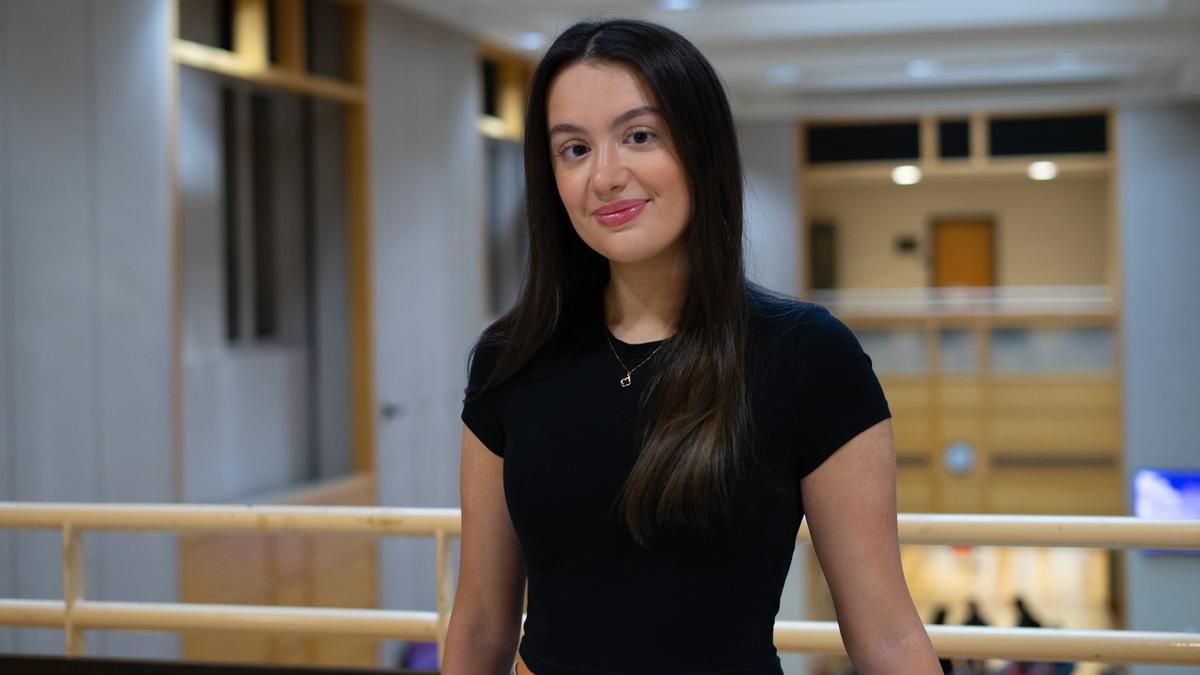 The question, "Where will I go to college?" never occurred to Niki Hamidi; she was going to MCPHS, just like her mom. She began the Doctor of Pharmacy—Direct Entry program in the fall of 2019. She excelled in her courses but wanted to explore other opportunities.
"I talked to my friends in the program who were so passionate about the internships and careers they were pursuing, and I just didn't have the same passion for it," she said. "A part of me just knew it wasn't my path."
But Hamidi didn't want to leave MCPHS. She turned to the University's website to look for other options, and a phrase on the health humanities field page stood out: law and policy. She had already taken the Gender Roles course, which involved studying court cases, and really enjoyed it. After some thought and consulting her family, Hamidi had a new plan. She was going to law school.
"I'm passionate about helping kids, so I'm interested in family law," she said. "Knowing that, I was able to tailor my major to my long-term goals. I also had a directed study with Dr. Farkas where I reviewed court cases about healthcare issues, and I will take that knowledge with me to law school."
Hamidi has been accepted to Tulane University Law School. She is passionate about practicing law to advocate for others, using the critical thinking, problem-solving, and ethical evaluation skills she learned through the Health Humanities program.
"I wish I had been able to be in this program for all four years, but even the past year was enough for me to walk away from college and be really happy with my experience," she said.
Emily Lopez
During her third year at MCPHS, Emily Lopez wanted to broaden her horizons. As a public health student, she wanted to stay in healthcare and remain at MCPHS, but she also wanted options. That's when she decided to earn her Bachelor of Arts in Health Humanities.
"It was a very risky thing to do late in my academic career," Lopez said. "But I know it was the best decision I could have made."
Public health and health humanities are parallel fields, both concerned with the social and environmental determinants of a person's health. For Lopez, it was important to study a wider variety of subjects to gain a broader perspective on the healthcare system. Health humanities offered her that.
"This program offers promise for a variety of job opportunities," she said. "I also really enjoyed how eager the professors were to help me and guide me, and how close the people in this major became."
Ultimately, Lopez has decided to return to what she first set out to do. She plans to pursue a Master of Public Health, feeling ready and better equipped to focus on improving the health of communities.
"This program was a great option to get a balance of healthcare without the clinical component," Lopez said. "I feel confident leaving MCPHS and am excited for the upcoming opportunities."
Sawliha Kidwai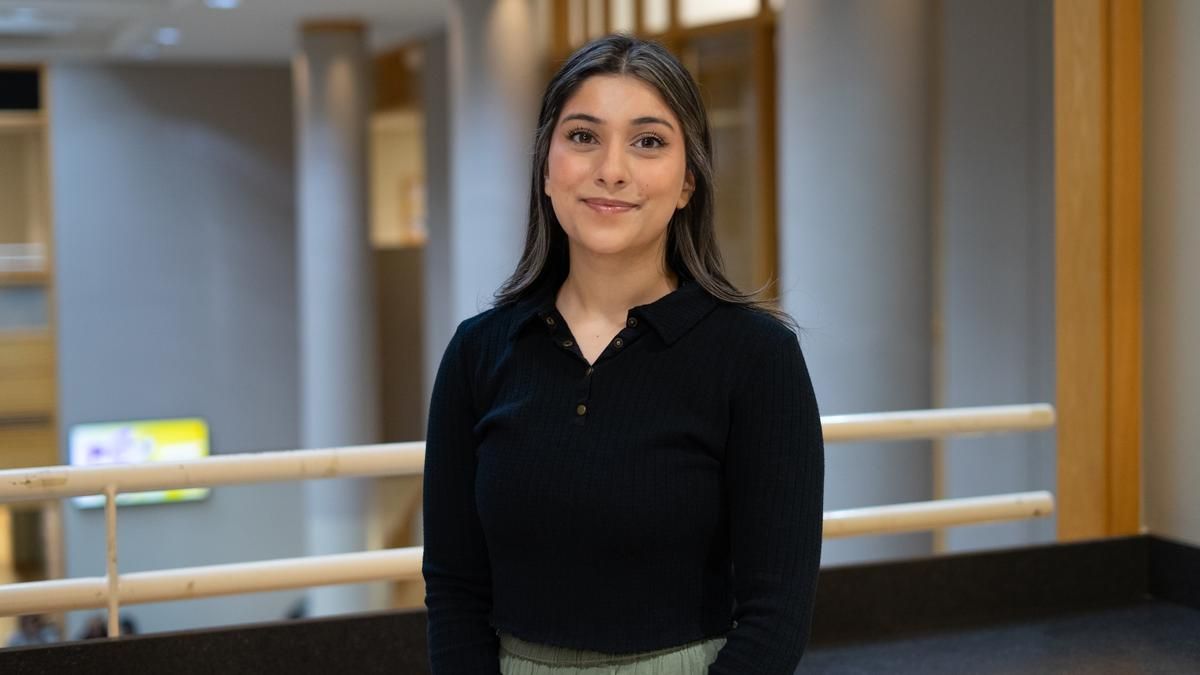 In high school, Sawliha Kidwai remembers getting teased for being the so-called "social media justice warrior" of her class. She always had a passion for raising awareness about social issues but never thought it could turn into a career.
"I was interested in helping people, and my family encouraged me to go into medicine," she said. "I chose to become a physician assistant."
In addition to her studies, Kidwai worked at one of the major hospitals in Boston to gain more experience. She learned that she was interested in working in healthcare in some way, but there were parts of the job that were bothersome.
"I had several patients whose treatment plan didn't align with their circumstances, especially financially, and I just thought that this can't be normal," she said. "We are taught to respect patients, but I think there's more to it than that. You have to try to understand their circumstances, culture, and background because it affects their health."
Kidwai brought her concerns to her healthcare ethics professor, Dr. Dien Ho. He was the one who told her about the Health Humanities program, and the coursework, skills, and experiences fit perfectly with the passion for advocacy she had always had.
"I'm interested in community-level health policy and change," she said. "There are people the healthcare system hurts more than it helps. I want to fight for them."
Kidwai finally has a path that feels right for her. She wants to become an ethics consultant, possibly for a hospital or another organization, to help create equitable healthcare policies. She hopes to earn her doctorate in bioethics. But first, she's applying to Master of Public Health programs, including the one at MCPHS.
"In the end, I did something I really love at a place I love," she said.