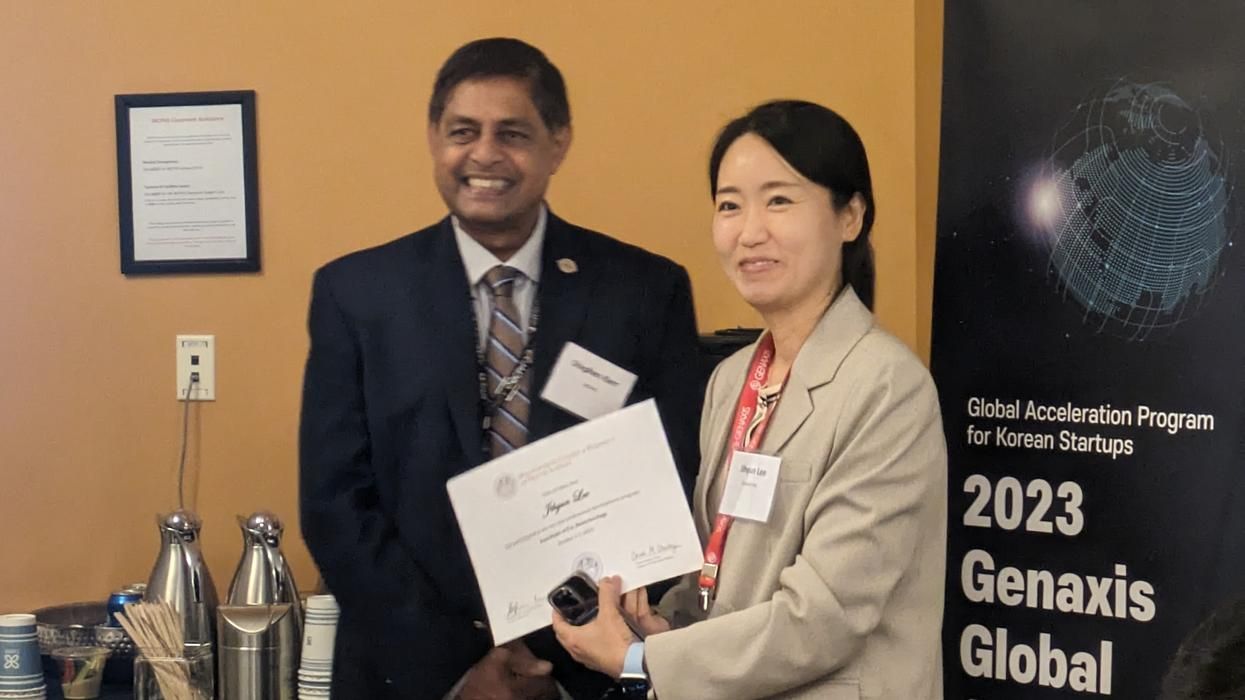 University News, Global Impact | 10/11/2023
Building Biotech: MCPHS Hosts Immersive Workshop for Leaders of Startups
By Dana Barbuto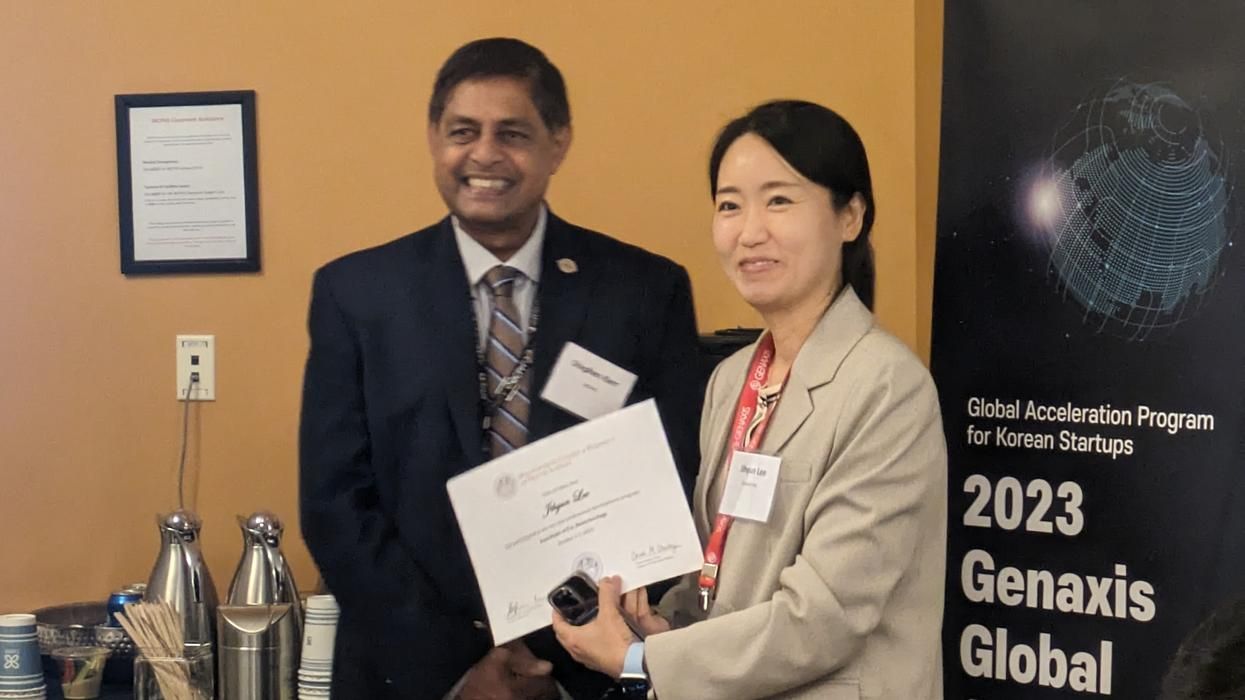 The two-day event brings together industry and higher education.
It was a landmark week for Massachusetts College of Pharmacy and Health Sciences (MCPHS) as the University strengthened its position as a global healthcare leader, hosting a group of South Korean biotechnology leaders for a two-day accelerated workshop covering innovation, discovery, and entrepreneurship.
Under the leadership of Stephen Kerr, PhD, Associate Provost for International Affairs, Frederick Frankhauser, Chair of the Department of Pharmaceutical Business & Administrative Sciences, and Carol Stuckey, Dean of the School of Professional Studies (SPS), the workshop was the first in-person professional education workshop for executives trying to establish a base in Boston's biotech cluster. The workshop also bolstered the collaboration between the University and the Korean Evaluation Institute of Industrial Technology (KEIT), which partnered with MCPHS in April when the formal agreement, a memorandum of understanding, was signed.
KEIT is a government-affiliated organization in South Korea. The partnership focuses on research and development to position South Korea as an innovator in the biotech sector and to strengthen ties with the United States.
Titled "Essentials of U.S. Biotechnology," the workshop, held Oct. 2-3, was organized by SPS, which has long worked with pharmaceutical and life sciences companies to develop top talent in regulatory affairs and other functions. Companies send cohorts of people through the University's certificate programs, which support employee development and retention.
At the end of the second day of the workshop, the participants were all smiles, exchanging handshakes as they received certificates of completion.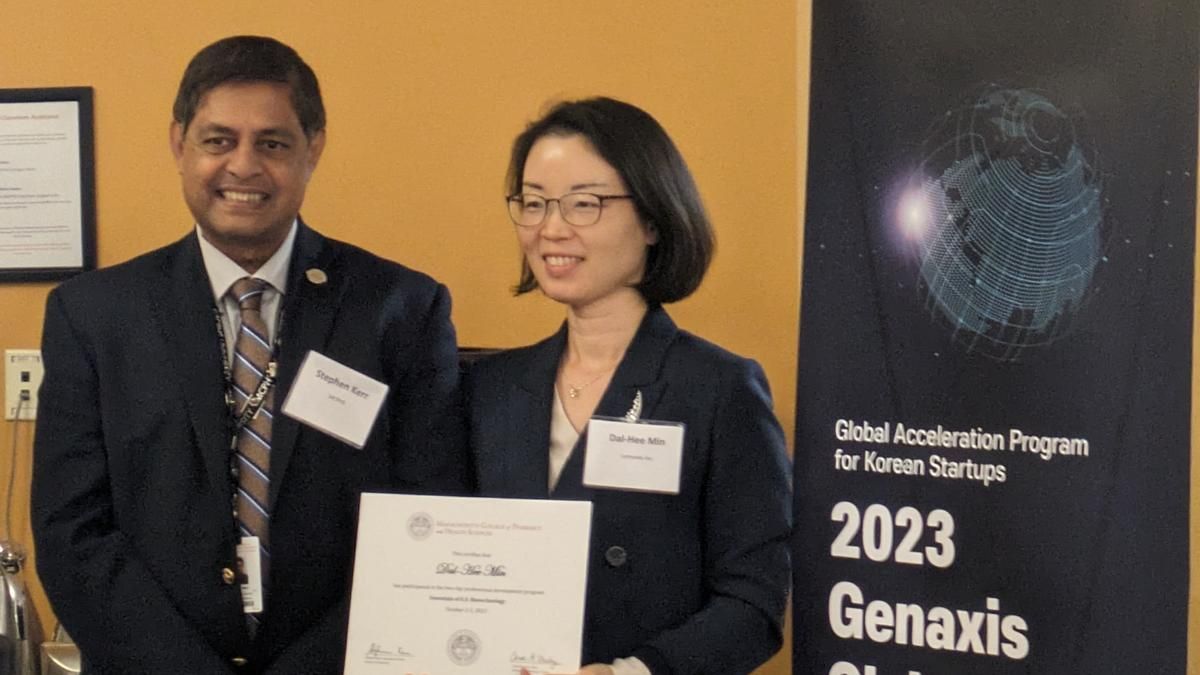 "This is a great opportunity for the University to highlight its faculty expertise in the pharmaceutical and medical device areas as well as to highlight its MS in Regulatory Affairs and Health Policy program," Frankhauser said.
Earlier in the program, Frankhauser facilitated sessions on technology transfer agreements, using real-life scenarios to explain the complicated process. For example, the Coca-Cola and Kentucky Fried Chicken recipes are trade secrets but they are not patented. Frankhauser also led discussions on health economics, U.S. healthcare policy, and regulatory issues for drugs and devices. In addition, Kerr and Frankhauser presented a case study illustrating a partnership between industry and academia. Participants were intrigued to learn that close to 15 percent of the world's medical research is believed to emanate from the greater Boston area, according to Dr. Kerr.
In total, MCPHS provided 10 hours of instruction throughout the two-day workshop. For the final session, attendees delivered investor relations presentations about their emerging companies. Faculty shared feedback and coached participants to be transparent about challenges. Among the participants were representatives from South Korean companies Genaxis Inc., Wiregene Co., Ltd., MTHERA PHARMA, Lemonex Inc., BioMe Inc., all headquartered in Seoul, and BW Biomed, out of Cambridge, Mass.
Dr. Kerr said this focused educational initiative offered to the South Korean biotech group paves the way for the University to model such future "expert" workshops tailored to the pharmaceutical and healthcare industry.