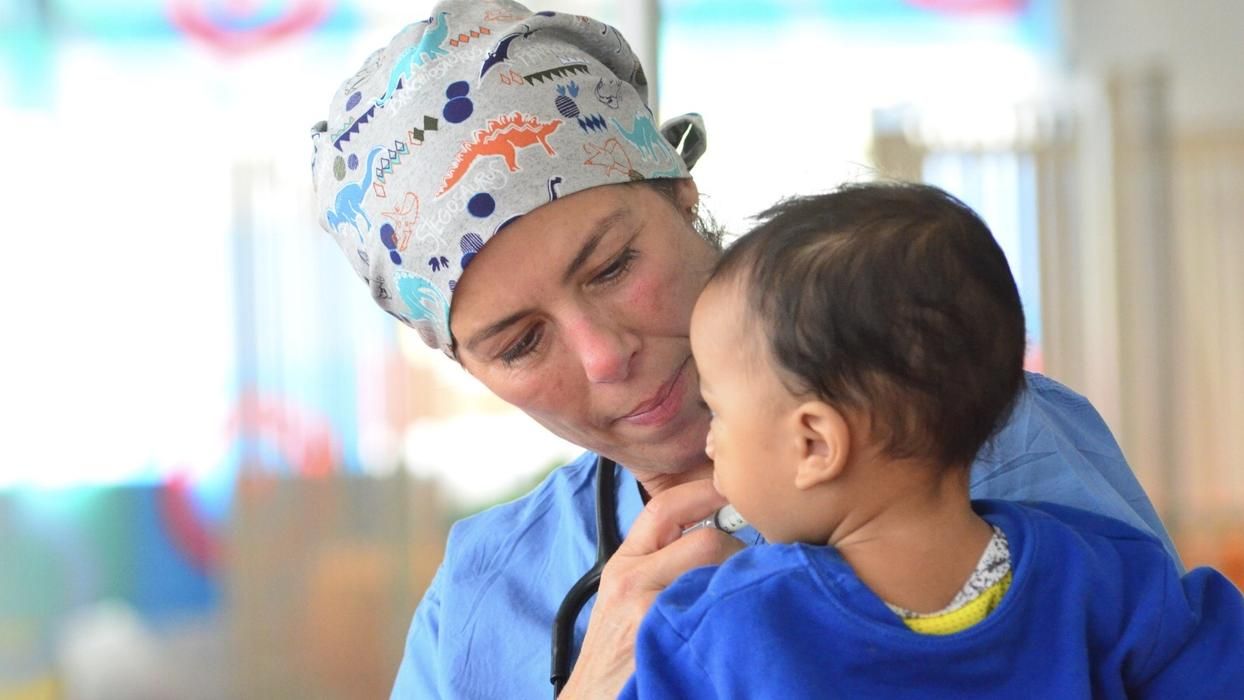 Faculty Feature, Global Impact | 9/15/2023
Smile Makers: MCPHS Nurses Travel the World to Help Children with Cleft Conditions
By Dana Barbuto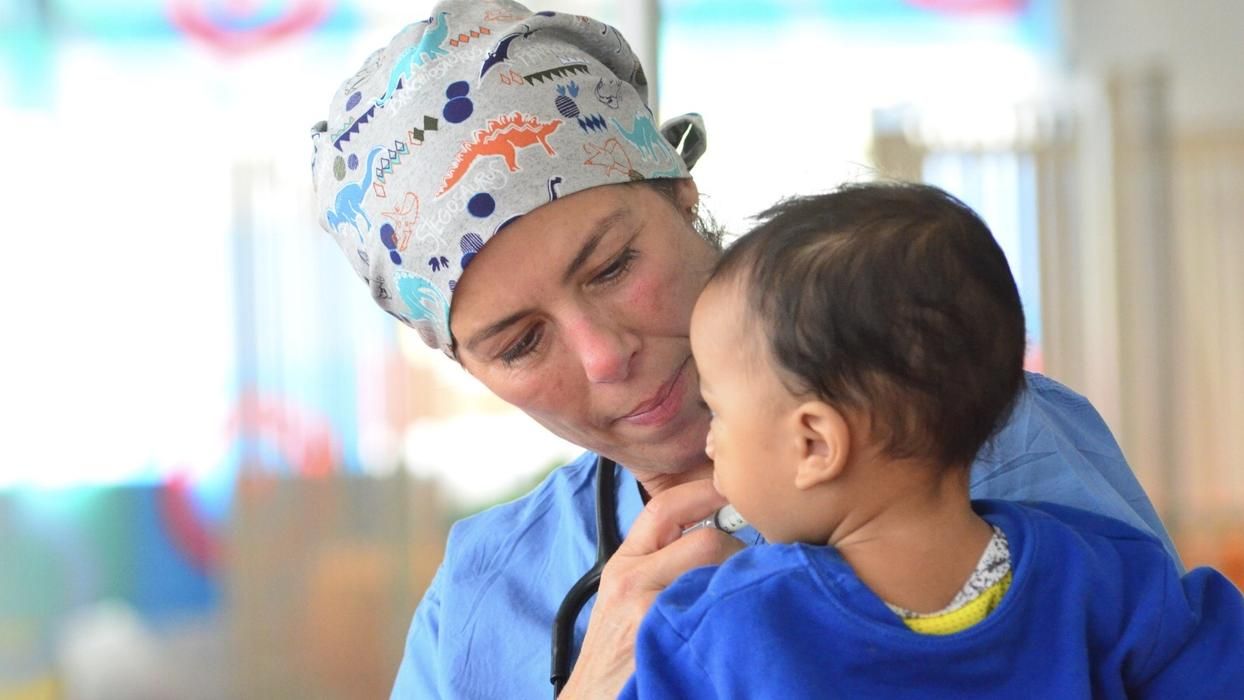 Associate Dean of Nursing Carlene Blais and Assistant Professor Carla Smith embrace the global health experience on volunteer medical trips.
A 3-year-old in Venezuela travels 1,200 miles with his mother to a hospital in Peru. He was born with a cleft palate that requires surgical repair. At Hospital Virgen de la Puerta in Trujillo, the boy lands in the care of Carlene Blais, DNP, RN-C, Associate Dean of Nursing on the Worcester and Manchester campuses of Massachusetts College of Pharmacy and Health Sciences (MCPHS). Blais has logged 13 medical mission trips over the past decade, so the boy is in good hands.
As fate would have it, when the child returned a year later for another procedure for a cleft lip, he woke up to see Blais in the postoperative care unit. "I recognized him immediately, and I was overwhelmed with emotion," Blais said. "I cried and said, 'I can't believe I get to see you again.' That was such a full circle moment."
A former pediatric nurse, Blais, who has three children and six grandchildren, said she falls in love with all the kids she helps. "I want to take them home with me."
Blais makes medical mission trips through Global Smile Foundation. This nonprofit provides free surgeries and other medical assistance to patients—most of them children—with congenital facial deformities like cleft lips and palates. Dr. Usama Hamdan, a Boston area surgeon, founded the organization. It hosts between eight and 10 medical missions annually, serving locations in the Middle East, Guatemala, Ecuador, Peru, and El Salvador. In these countries, volunteer doctors and nurses spend approximately 10 days providing as many surgeries as possible. The May 2023 trip to Peru yielded 79 surgical procedures on 42 patients.
"I've been fortunate to travel all over the globe to care for children and families that don't have that service," Blais said. "We don't see a lot of cleft lip and palate in the United States, but we do in those countries where they don't have the same care. Returning home is humbling, especially complaining about being stuck in a long line at Dunkin' Donuts. This work always brings me back to reality."
Since her first mission with Global Smile in 2012 took her to Guatemala, Blais has been sharing her skills all over Central and South America, Africa, and Lebanon. She makes at least one trip yearly with dozens of other volunteers, including Carla Smith, an assistant nursing professor on the Manchester campus.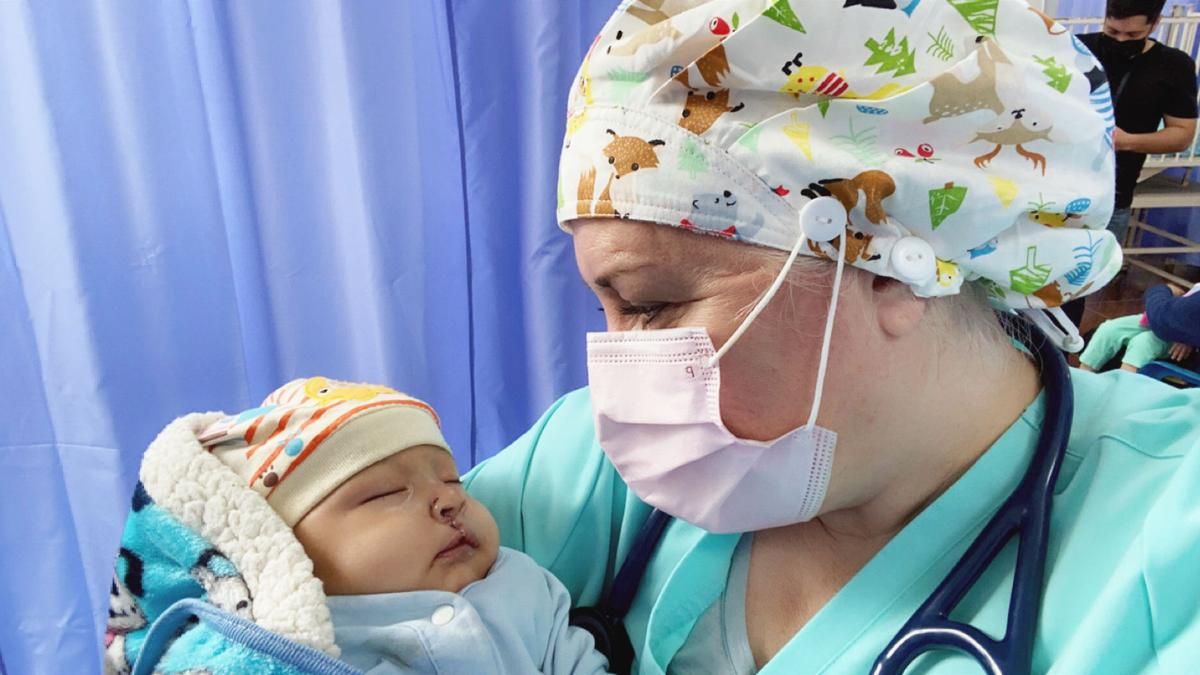 Back to basics
Smith, also a doctoral student in the Health Sciences program at MCPHS, had zero stamps in her passport before she started medical trips two years ago. "I'm studying global health, yet I haven't been anywhere. Carlene encouraged me to do mission trips."
When she first arrived at Hospital León Becerra in Guayaquil, Ecuador, Smith said she had no idea what to expect. "My background is in emergency nursing and pediatrics, and here I was in a postoperative care unit. I had to pause, reflect on my surroundings, and think, 'OK, these are my skills. This is what I know; this is what I can do.' And then, hit the ground running."
Cleft lip surgeries ran about an hour. Repairing a cleft palate took up to three. Recovery took a bit longer. That's where Smith stepped in. She covered the postoperative floor and bonded with grateful parents and children, like the little girl who needed anesthesia to have teeth that grew in her nasal cavity extracted. Playing Tooth Fairy, which is called Raton Perez in Ecuadorian culture, Smith put an envelope under the child's pillow. When the girl awakened, she was snuggling with her dad, holding a little cloth baby doll. Afterward, she found the envelope.
"The look on her face was the most priceless thing I've ever seen. She pulled out a $5 bill, and somebody told us after the fact that it was like giving them over a hundred dollars," Smith said. "The next day, she jumped into my arms like a koala bear and hugged me."
Healing with humanity
It's not just the pint-sized patients who make an impact, either. During a recent trip to Ecuador, Blais cared for a woman who underwent facial nerve graft surgery. The woman was nervous, and Blais tried to calm her with words, but she did not speak Spanish. Instead, she held the woman's hand.
"You don't need to speak the language to know when someone is in distress," Blais said.
After the surgery, Blais returned to the woman's bedside, again offering the comfort of human touch. When it was time to remove the painful drains, the woman squeezed Blais's hand.
Later, as the nursing crew prepared to leave, the woman approached Blais and cupped her face.
"There were no words. She held my face, looked straight at me, and hugged me. That's why I keep going on these trips," Blais said. "It fills my soul."
Teachable moments
Experiencing three missions, with two more scheduled for next year, has given Smith a new appreciation for nursing, especially meeting basic healthcare needs, relying on foundational skills, ingenuity and working in situations with limited resources.
"The hospital environment is very different from the United States," Smith said. "There is no fully stocked supply closet. Everything is recycled. Tylenol boxes are taped together and turned into arm boards."
Smith carries her mission experience into the classroom, teaching students to provide high-quality care without all the "bells and whistles." Her capstone project for the doctoral degree she'll receive next spring looks at the recruitment and retention methods for nurses on short-term medical mission trips. She also put together a 59-slide PowerPoint presentation that she shares with students.
"I talk about cost-effective care. I talk about nursing practice models in staffing because it's very different in another country than here," Smith said. "We talk about knowing your scope of practice, policy development, and interprofessional education because a mission trip is a true team approach. It's not just one discipline."
Common compassion
Another lesson? Nursing is a universal language and a profession rooted in science but stronger in humanity.
Smith recalls working with a local nurse in Ecuador: "Her name is Germania, and I met her on my first trip. She just looked at me, and I looked at her, and she said, 'Nurse.' And I said, 'Nurse.' We had a 30-minute back-and-forth, and I don't know a single word we said to each other, yet it was a true conversation. When I returned on my second and third trip, I ran into her both times, and it was like, 'Oh, Hi my friend, mi amiga."