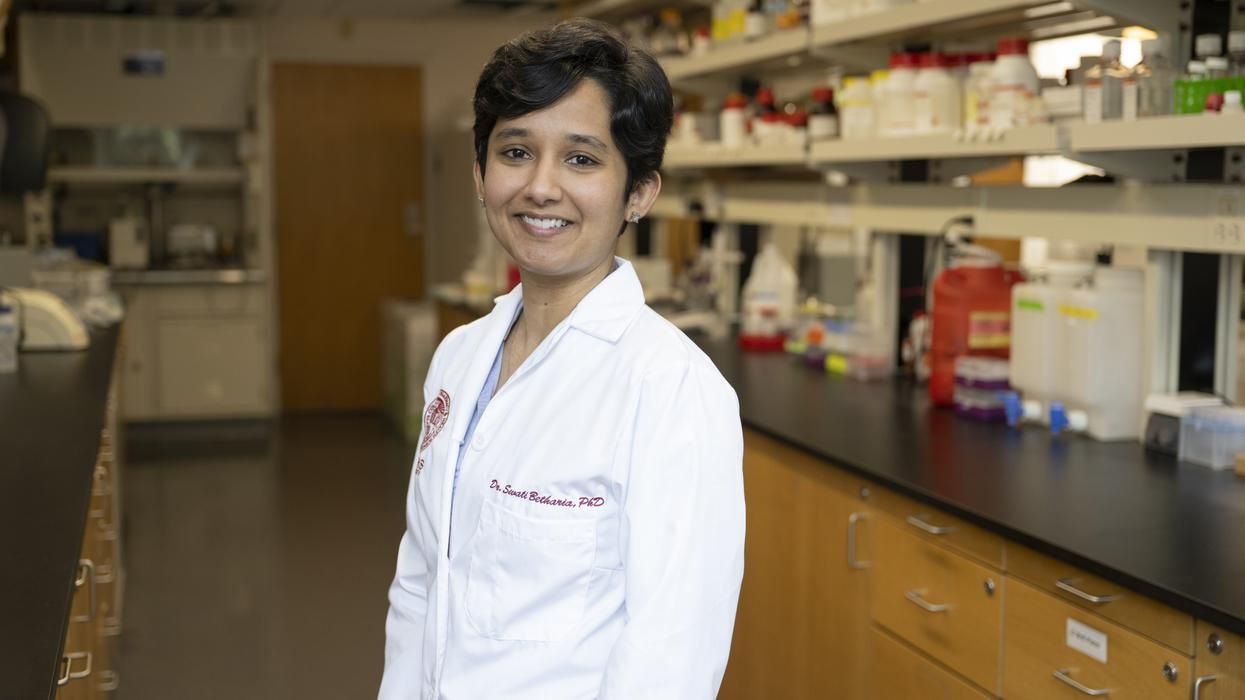 Faculty Feature
Pharmaceutical Sciences Chair Leads Students in Published Study on Neuroprotection Against Manganese-Induced Toxicity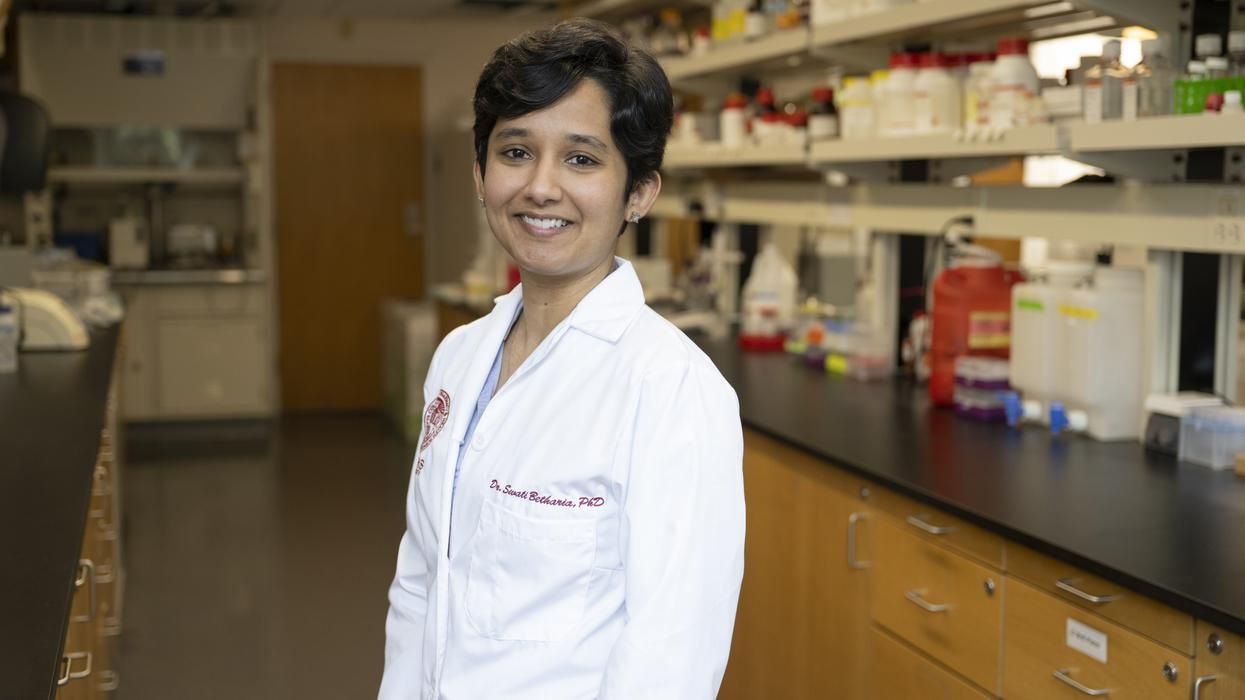 Chair Swati Betharia, PhD, has a continual stream of students involved in her research. Her exciting, new publication features the work of undergraduate- and graduate-level co-authors.
Swati Betharia, PhD in Pharmacology '11, is Chair of the Department of Pharmaceutical Sciences and Associate Professor of Pharmacology and Toxicology. She also happens to be an alum of MCPHS's Doctor of Philosophy in Pharmacology program. With her experience as both an alum and faculty member, she knows the value of involving students in research and the many advantages it gives them early into their educational and career paths. Dr. Betharia says she considers graduate students as her "hands" and likes to have at least two or three of them working in her lab at a time. "I don't have as much opportunity to physically be in the lab at all times, so grad students are my key points of contact," she says. "And undergraduate students often will shadow graduate students, learn from them, and get involved in different projects of their interest." Every year since Dr. Betharia became an MCPHS faculty member in 2016, her lab has accepted students from the PharmD Honors program; the Summer Undergraduate Research Fellowship (SURF) program; the pharmacology MS and PhD graduate programs; and undergraduate students seeking further research and shadowing opportunities. Her goal as department chair is to encourage more faculty to involve students in their research. "Lab-based research in basic sciences is what makes the department of pharmaceutical sciences unique in the School of Pharmacy. So, we in the department—faculty who work in research labs—the onus is on us to make sure that we provide students the lab-based skills that only we can provide."
In terms of the research opportunities offered in Dr. Betharia's laboratory, six students—three undergraduate and three graduate students—recently became published authors alongside Dr. Betharia for their paper, "Neuroprotective effects of disubstituted dithiolethione ACDT against manganese-induced toxicity in SH-SY5Y cells," which was published by Elsevier in Volume 147 of the journal, Neurochemistry International. The three undergraduate authors: Nguyen Vu, PharmD '23, MCPHS Boston; Claude Yoo, Pharmacy Practice Resident, MCPHS Boston; and Rohan Zaveri, PharmD '22, MCPHS Boston, connected with Dr. Betharia through the PharmD Honors and SURF programs. The three graduate authors: Neha Kulkarni, PhD in Pharmacology '24; Rajitha Gadde, PhD in Pharmacology '22; and Kuljeet S. Gugnani, PhD in Pharmacology '21, performed the research when they were at the master's level of their PhD program, but now at the doctorate level, they have continued their work in Dr. Betharia's laboratory. Although she is still a student, Neha Kulkarni had the great responsibility of putting the paper together, earning her the spot as the first author listed on the publication. As the senior author, Dr. Betharia, led the project from the design of the study to the proofreading and revision of the manuscript.
The objective of this study was to determine the effects of pretreating neuronal cells (specifically SH-SY5Y cells) with a test compound known as ACDT—which falls under the chemical class of disubstituted dithiolethiones—prior to exposing them to the toxicant manganese. The researchers found that ACDT did indeed provide neuroprotection against manganese-induced toxicity in pretreated cells. This is promising news for the next phase of research, which will involve testing the same compound but in animals. The results of this study indicate that manganism (manganese toxicity) can potentially be treated with a therapy that can match the toxicant in its capability of entering the brain. Current therapies for manganism, such as metal chelators, can bind to the toxicant but cannot enter the brain. These findings have also set the foundation for future projects in Dr. Betharia's lab, testing the protective effects of ACDT against other metals that have similar absorption, distribution, and metabolic properties to manganese.
Dr. Betharia's interest in metal-based toxicity can be traced back to her own experience as a graduate student. When she was in her PhD program at MCPHS, she worked in the laboratory of recently retired Professor of Pharmacology and former Chair of Pharmaceutical Sciences and Dean of Graduate Studies Timothy J. Maher, PhD, where she studied the neurotoxicity of manganese and lead in developmentally exposed rat pups. Once Dr. Betharia finished her PhD, she became a founding faculty member at Manchester University College of Pharmacy. There, she studied Parkinson's disease using neuronal cells exposed to 6-hydroxydopamine, a toxicant commonly used to create a model of Parkinson's disease in cells. It was for this project that Dr. Betharia first started testing ACDT as a potential cytoprotective compound. With ACDT pretreatment, many of the neuronal cells survived the attack of the toxicant—thus, leading to Dr. Betharia's decision to pursue similar research with other combinations of test compounds and toxicants. Now, back in the laboratories of MCPHS as the principal investigator, she aims to set up her students well for their own future careers in research. Through this project alone, her students performed various resume-bolstering laboratory techniques and experiments, such as testing cell life with a spectrophotometer instrument (cell viability assay); measuring levels of reactive oxygen species (ROS) to distinguish cell stress levels; and Western blotting, a challenging three-day experiment to determine the amount of NQO1 protein in a sample. Dr. Betharia says that having early experience with different types of laboratory techniques is especially important for undergraduate students: "It adds to the breadth of their skills [and] makes their CV more powerful, because most undergraduate students who want to pursue residency or apply to graduate school have very high GPAs. It's these other aspects that really set them apart and give them that much needed competitive edge."
Interested in starting an undergraduate degree in pharmacy? Learn more about our Bachelor of Science in Pharmaceutical Sciences program.