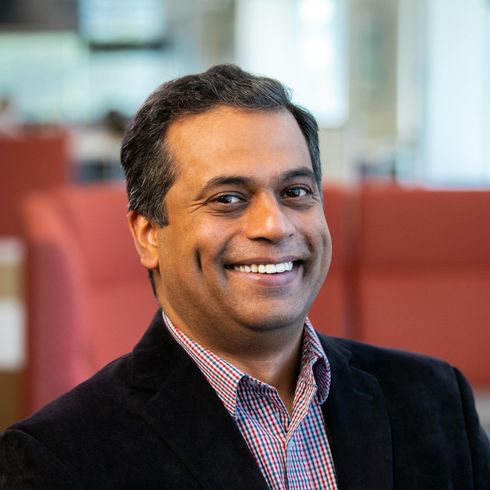 Anand Sridhar
Associate Professor of Medicinal Chemistry
School
School of Pharmacy
Department
School of Pharmacy
Office Location
White 318
Boston
About
Dr. Sridhar has 12 years of experience in PharmD teaching (pharmacology, medicinal chemistry, biochemistry) across three different pharmacy schools in the United States. The therapeutic areas taught include cardiovascular, gastrointestinal, pain and inflammation, oncology, and infectious diseases (antibacterial, antiviral, antiprotozoal, antifungal).
Dr. Sridhar's research laboratory focuses on the development and application of chemistry- based tools to solve biology- or pharmacology-based research problems. This includes the synergistic application of computer-based design and organic chemical synthesis towards rational design of enzyme inhibitors or mechanism-based probes.
In addition to presenting at academic seminars, Dr. Sridhar has been invited to multiple CE talks for pharmacists, where he combines his knowledge of basic science with clinical trial data to provide pharmacists with a better understanding of cannabis-based botanicals, weight loss supplements, meal replacements products, and energy drinks.
Education
PhD in Medicinal Chemistry, University of Mississippi School of Pharmacy
BS Pharmacy (BSPh); Mumbai University


Research Interests
Antibiotic Drug Discovery, Biochemistry, Bioorganic Chemistry, Medicinal Chemistry, Organic Synthesis, Computer-assisted Drug Discovery and Design (Docking, QSAR), and Drug Metabolism
Featured Affiliations
American Association of Colleges of Pharmacy (AACP) 2012-current
Link
Education
PhD in Medicinal Chemistry, University of Mississippi School of Pharmacy
BS Pharmacy (BSPh); Mumbai University


Research Interests
Antibiotic Drug Discovery, Biochemistry, Bioorganic Chemistry, Medicinal Chemistry, Organic Synthesis, Computer-assisted Drug Discovery and Design (Docking, QSAR), and Drug Metabolism
Publications
PEER-REVIEWED ARTICLES
Lifespan extending properties of Kalanchoe daigremontiana plant extracts in S. cerevisiae. [accepted for publication] BIOS, 2022, pp.xxx O. Marziale; X. Somoulay; S. Anand; M. A. B. Herman; J. L. Mattiacio; J. I. Millen.
Pegvaliase: a novel treatment option for adults with phenylketonuria Current Medical Research and Opinion, 2019, 35(4), 647-651 K. C. Mahan; M. A. Gandhi; S. Anand
Drug-Phospholipid Complex-loaded Matrix Film Formulation for the Enhanced Transdermal Delivery of Quercetin Journal of Excipients and Food Chemicals, 2018, 9(2), 31-50 D. R. Telange; K. Wavare; A. T. Patil; M. Umekar; S. Anand; V. S. Dave
Oral Antiplatelet Therapy in the setting of Intracranial Hemorrhaging: A literature revi Desmopressin Acetate Trauma, 2017, 19(1), 3-10. J. Mappus; S. Fellows; S. Anand; M. A. Gandhi
Formulation and characterization of an apigenin-phospholipid phytosome (APLC) for improved solubility, in vivo bioavailability, and antioxidant potential European Journal of Pharmaceutical Sciences, 2017, 108, 36-49. D. R. Telange; A. T. Patil; A. M. Pethe; H. A. Fegade; S. Anand; V. S. Dave
Kaempferol-Phospholipid Complex: Formulation, and Evaluation of Improved Solubility, In Vivo Bioavailability, and Antioxidant Potential of Kaempferol Journal of Excipients and Food Chemistry, 2016, 7(4), 89-120. D. R. Telange; A. T. Patil; A. M. Pethe; A. A. Tatode; S. Anand; V. S. Dave
GT-094, a NO-NSAID, Inhibits Colon Cancer Cell Growth by Activation of (ROS)-MicroRNA- 27a:ZBTB10-Specificity Protein (Sp) Pathway. Molecular Cancer Research, 2011, 9, 195-205 S. Chintharlapalli; I. Jutooru; G. Chadalapaka; S. Sreevalsan; S. Anand; G. Thatcher; S. Safe
NO Donor and Mimetic Molecules in Cancer Chemotherapy and Chemoprevention Forum on Immunopathological Diseases and Therapeutics, 2010, 1, 251-279. S. Anand, I. T. Schiefer, G. R. J. Thatcher
BOOKS AND BOOK CHAPTERS
Drugs used to treat coagulation disorders (Chapter 18) Foye's Principles of Medicinal Chemistry, 8th Edition; V. Roche, W. Zito (Eds.) Wolters Kluwer, 2019 S. Anand
Cyclodextrins in Ocular Drug Delivery (Chapter 12) Nano-Biomaterials for Ophthalmic Drug Delivery; A. Hirani, Y. Pathak, V. Sutariya (Eds.) Springer Publications, 2016, 243-252 S. Anand, V. M. Braga
Hybrid drugs and potential roles in Alzheimer's disease, stroke, and dementia (Chapter 4); Multifunctional Drugs: New Chimeras in Medicinal Chemistry; S. Rapposselli (Ed.) The Research Signpost, 2011, pp. 65-99. S. Anand, L. VandeVrede, J. Luo, G. R. J. Thatcher
Nitric Oxide-releasing molecules for cancer therapy and chemoprevention (Chapter 20); Nitric Oxide (NO) and Cancer: Cancer Drug Discovery and Development; B. Bonavida (Ed.), Springer Science, 2010, pp. 361-385. S. Anand, G. R. J. Thatcher
REFEREED ABSTRACTS
Targeting DXP Synthase using TPP Mimics Alsalahi, P. Girardi, K. Callahan, and A. Sridhar FASEB Journal, 2018, 32: 797.11-797.11.
Evaluating the activity of bacterial enzyme DXP synthase a potential target for newer antibiotics M. Kessler; S. Anand; K. P. Callahan FASEB Journal, 2017, 31:939.17-939.17
PRESENTATIONS INVITED TALKS
Structure-based design, synthesis, and evaluation of putative inhibitors of DXP synthase, an antibiotic drug target Chemistry Department, SUNY Brockport, Geneseo, NY (02/01/2018)
DXP synthase as a potential target in the discovery of new antibiotics Chemistry Department, SUNY Geneseo, Geneseo, NY (9/15/2017)
Targeting DXP synthase to discover newer antibiotics [AACP Award Talk] Chemistry Section, American Association of Colleges of Pharmacy (AACP) National Meeting, Nashville, TN (7/14/2017)
Meal Replacement Products, Nutritional Supplements and Protein Shakes: The New Whey Forward Pharmacy Society of Rochester and Rochester Area Society of Health System Pharmacists, Rochester, NY (3/26/2017) [Continuing Education Talk for Pharmacists in the Rochester NY area]
The Use and Abuse of Power: Commercially Available Energy Drinks Pharmacy Society of Rochester and Rochester Area Society of Health System Pharmacists, Rochester, NY (5/22/2016) [Continuing Education Talk for Pharmacists in the Rochester NY area]
Ethnobotanicals in Dental and Oral Medicine University of Rochester, School of Dentistry and Oral Medicine, Rochester, NY (12/3/2015)
An overview of botanicals, including medical marijuana Pharmacy Society of Rochester and Rochester Area Society of Health System Pharmacists, Rochester, NY (11/15/2015) [Continuing Education Talk for Pharmacists in the Rochester NY area]
Developing new antibiotics in response to antibiotic drug resistance Junior Science Scholars, St. John Fisher College, Rochester, NY (11/2015)
Using computer software in drug discovery and design Freshman Science Scholars, St. John Fisher College, Rochester, NY (04/2015)
Chemical Biology: Developing Chemical Probes to "Fish" for Cellular Proteins Third Friday Series, St. John Fisher College, Rochester, NY (02/20/2015
Synthetic studies of the sesquiterpene lactone repin towards understanding ENE 30th Annual MALTO Medicinal Chemistry–Pharmacognosy Meeting-in-Miniature, Unive Tennessee, Memphis, TN (04/2006)
POSTER PRESENTATIONS
Targeting DXP Synthase using TPP Mimics A. Alsalahi, P. Girardi, K. Callahan, and A. Sridhar American Society for Biochemistry and Molecular Biology (ASBMB) National Meeting, San Diego, CA (04/2018)
Evaluating the activity of bacterial enzyme DXP synthase a potential target for newer antibiotics A. M. Kessler; S. Anand; K. P. Callahan American Society for Biochemistry and Molecular Biology (ASBMB) National Meeting, Chicago, IL (05/2017)
Formulation of Phospholipid Complex-Loaded Matrix Film for Improved Transdermal Delivery and Anti-Inflammatory Activity of Umbelliferone D. R. Telange; K. Wavare; A. T. Patil; M. Umekar, M; S. Anand; V. S. Dave
American Association of Pharmaceutical Scientists (AAPS) National Meeting, San Diego, CA (11/2017) Creating an Initial Framework for the Longitudinal Assessment of Domain 4 Attributes S. Leonard, L. Vicker, S. Anand, K. A. Connor, C. R. Birnie American Association of Colleges of Pharmacy (AACP) National Meeting, Nashville, TN (07/2017)
Kaempferol-Phospholipid Complex: Formulation, and Evaluation of Improved Solubility, In Vivo Bioavailability, and Antioxidant Potential of Kaempferol V. Dave; D. Telange; A. Patil; A. Pethe; A. Tatode; S. Anand American Association of Pharmaceutical Scientists (AAPS) National Meeting Denver, CO (11/2016)
Formulation and characterization of an apigenin-phospholipid phytosome (APLC) for improved solubility, in vivo bioavailability, and antioxidant potential S. Anand; D. Telange; A. Patil; A. Pethe; H. Fegade; V. Dave.
American Association of Pharmaceutical Scientists (AAPS) National Meeting Denver, CO (11/2016) Examining "neighboring group effects" on student learning in pod-style classrooms in a first- year biochemistry-based course S. Anand; K. Donovan; S. Leonard American Association of Colleges of Pharmacy (AACP) National Meeting, Anaheim, CA (07/2016)
Using Interprofessional Education as a means to enhance personal and professional development M. Zak, A. Corigliano, J. Souza, K. DelMonte, A. DiGiorgio, C. Birnie, S. Anand American Association of Colleges of Pharmacy (AACP) National Meeting, National Harbor, MD (07/2015)
Granular Analysis of a Course-Level Curriculum Map for an Introductory Pharmacy C Pilot Study V. S. Dave, L. Chablani, J. M. Souza, S. Anand American Association of Colleges of Pharmacy (AACP) National Meeting, Dallas, TX (07/2014)
Identification of plant-based environmental neurotoxins towards understanding the etiology of neurodegenerative disorders J. L. Mappus, S. Anand American Society of Health Systems Pharmacists (ASHP) Mid-Year, National Meeting, Anaheim, CA (12/2014)
Formative assessment of a P1-year Biochemistry module using index cards as the response medium S. Anand, A. L. Parkhill, C. R. Birnie American Association of Colleges of Pharmacy National Meeting, Chicago, IL (07/2013)
WSOP Prescription for Innovation - Use as Needed (PRN) M. Lull, S. Anand, C. Birnie, et al. American Association of Colleges of Pharmacy National Meeting, Chicago, IL (07/2013)
UNDERGRADUATE RESEARCH POSTERS AND PRESENTATIONS (NON-PEER REVIEWED)
Synthesis of azides towards antibiotic development B. M. Verbickas; S. Anand Undergraduate and Graduate Student Scholarship and Creative Work Symposium, Center for Student Scholarship, Research, and Creative Work, St. John Fisher College, Rochester, NY (04/2017)
Synthetic and HPLC Studies on TBDMS-Acetaminophen K. M. Gwilt, D. L. Austin, B. M. Kraft, S. Anand Rho Chi Local Chapter Student Scholarship Poster Symposium, St. John Fisher College, Rochester, NY (04/2014)
Synthesis of silylated derivatives of hydroxyzine, a generation I antihistamine D. L. Austin, K. M. Gwilt, B. M. Kraft, S. Anand Rho Chi Local Chapter Student Scholarship Poster Symposium, St. John Fisher College, Rochester, NY (04/2014)
Silylation of Drug Molecules as a Potential Prodrug Approach D. L. Austin, S. Anand, B. M. Kraft
Rho Chi Local Chapter Student Scholarship Poster Symposium, St. John Fisher College, Rochester, NY (04/2013)
Awards and Honors
GRANT AWARDS FUNDED
Overall Career Grant Funding: $ 318, 950.00
Title: Acquisition of an NMR Spectrometer to Enhance Scholarly Research and Undergraduate Education at St. John Fisher College
Funding: $ 304,950.00
Program: National Science Foundation (NSF) Major Research Instrumentation (MRI) Agency: National Science Foundation (NSF), Division of Chemistry (CHE)
Role: Co-Principal Investigator (Co-PI)
Budget Period: 08/15/2018 to 07/31/2021
Award Number: 1828310
Title: Developing ThDP mimics as inhibitors of DXP synthase towards newer anti-infective agents
Funding: $ 10,000.00
Program: AACP New Investigator Award
Agency: American Association of Colleges of Pharmacy (AACP) Budget Period: 02/01/2016 to 01/31/2017
Role: Principal Investigator (PI)
Title: Isolation and structure elucidation of sesquiterpene lactones from the noxious weed, Centaurea repens
Funding: $ 3,000.00
Program: St. John Fisher College Faculty Development Grant Agency: St. John Fisher College
Budget Period: 06/01/2013 to 05/31/2014
Role: Principal Investigator (PI)
Title: Measuring foundational knowledge in chemistry of incoming P1 students using a pre- test-post-test method of analysis
Funding: $ 1,000.00
Program: SJFC Mini-Grants for Strategic Planning Agency: St. John Fisher College
Budget Period: 06/01/2015 to 05/31/2016 Role: Principal Investigator (PI)
P1 Teacher of the Year, Wegmans School of Pharmacy 05/2019
P1 Teacher of the Year, Wegmans School of Pharmacy 05/2018
Nomination for Teacher of the Year, Wegmans School of Pharmacy 05/2017
2013 AACP Walmart Scholar Mentor (Protégé: Daniel Austin, Class of 2014) 04/2013 American Association of Colleges of Pharmacy (AACP)