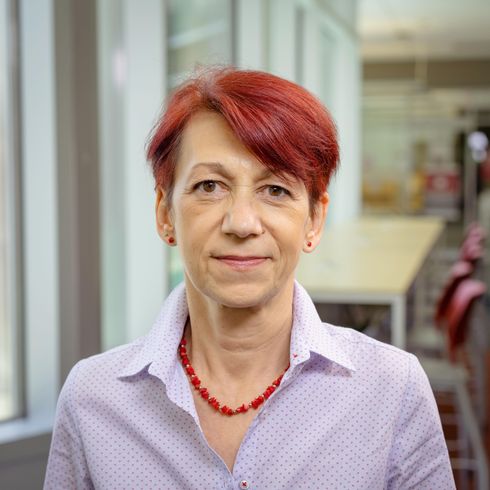 Magdalena Luca, PhD
Professor of Mathematics and Statistics
School
School of Arts and Sciences
Department
School of Arts and Sciences
Office Location
Fennell 219
Boston
About
Education
PhD, University of British Columbia, Canada
MSc, University of Manitoba, Canada
BSc, Transilvania University of Brasov, Romania
Research Interests
Conceptual understanding of Statistics and applied Biostatistics
Scientific Writing
Improving Wikipedia pages
Education
PhD, University of British Columbia, Canada
MSc, University of Manitoba, Canada
BSc, Transilvania University of Brasov, Romania
Research Interests
Conceptual understanding of Statistics and applied Biostatistics
Scientific Writing
Improving Wikipedia pages
Academic and Administrative Appointments
Interim Associate Dean, School of Arts & Sciences (July – December 2021)
Interim Associate Dean, School of Arts & Sciences (July – December 2021)
President, Faculty Senate (July 2019 – June 2021)
Director, Math & Physics Center, Boston Campus (2010 – 2016)
Director, Math & Physics Center, Boston Campus (2010 – 2016)
Mathematics Coordinator, School of Arts & Sciences (2009 – 2014)
Mathematics Coordinator, School of Arts & Sciences (2009 – 2014)
Publications
Joe DeMasi, Robin A. Harvan RA, Magdalena Luca (September 2019). Online and In-Class Team-Based learning in Undergraduate Immunology: A Comparative Analysis. Medical Science Educator.
Dacey, M., McCloskey, W.W., Zeind, C., Luca, M., Woolsey, L., Eliadi, C., Seoane-Vasquez, E., Couris, R.R. (March-April 2014). Development of a questionnaire to assess health profession students' knowledge of older adults. Currents in Pharmacy Teaching and Learning, 6(2), 233-244.
Magdalena Luca, Alexandra Chavez-Ross, Leah Edelstein-Keshet, and Alex Mogilner (2003). Chemotactic Signaling, Microglia, and Alzheimer's Disease Senile Plaques: Is There a Connection? Bulletin of Mathematical Biology, Vol. 65, Num. 4, 693 - 730.
Magdalena Luca, P. N. Shivakumar, and Serpil Kocabiyik (1998). Flow past and Through a Porous Medium in A Doubly Connected Region. Applied Mathematical Letters, Vol. 11, Num. 2, 49 - 54.
Awards and Honors
School of Arts and Sciences Award for Teaching Excellence, MCPHS 2014
Faculty Research Award: Scholarship of Teaching, MCPHS 2014
Faculty Short-Term Service Award, MCPHS 2013
Trustees Award for Teaching Excellence, MCPHS 2010
Faculty Research Award: Scholarship of Discovery, MCPHS 2004
Award for Excellence in Teaching, University of British Columbia 1998