Welcome to the Doctor of Optometry Program
Congratulations on your decision to attend the Doctor of Optometry program at MCPHS!
We're excited that you'll be joining us soon. There are some important steps to prepare for your time at MCPHS, detailed below. We will continue to post specific information on this page, so be sure to check back often.
The fall 2023 schedule will be available late spring.
White coats and name tags will be ordered for each student by the department. The white coat order form will be available late spring.
Students are required to purchase official MCPHS scrubs from Trippi's Uniforms for use during the Doctor of Optometry program. These scrubs will include the MCPHS logo. Your first name and last initial may be embroidered for an additional cost, however embroidery of your name is optional. These will be worn for all labs and clinical experiences and will identify you as an MCPHS student. We recommend that each student purchase two sets of scrubs (tops and bottoms).
Order your scrubs from Trippi's by the following dates based on your start term to ensure your scrubs are delivered in time for your first lab day.
Fall: July 31
Spring: November 30
Please go to the Trippi's store or call them directly to order your scrubs.
Trippi's Uniforms
268 Boston Turnpike
East Shrewsbury, MA
01545
508.755.4721
Note: The MCPHS School of Optometry is not affiliated with Trippi's Uniform
Students are required to purchase official MCPHS scrubs from Trippi's Uniforms(keep link) for use during the Doctor of Optometry program.
Information on ordering your equipment kit will be made available late spring.
MCPHS has established technology guidelines for all new students.
The Doctor of Optometry program will be using online electronic testing software including Blackboard Collaborate Ultra, Respondus, and ExamSoft for the administration of examination and quizzes. All students are required to bring a laptop (Mac or PC) that meets the minimum specifications linked below in order to be able to sit for exams. When referring to the minimum specifications, take note of the requirements mentioning ExamID and ExamMonitor, which require your electronic device to be equipped with a webcam and microphone.
Each student will also be required to purchase a privacy screen or privacy filter that fits on their device.
* Please note that Chromebooks are currently not compatible with ExamSoft software.
An approved American Heart Association Cardiopulmonary Resuscitation/Basic Life Support (CPR/BLS) training for Healthcare Professionals is required of all students and must be maintained for the duration of the program. Students must submit their certification by October 1 of their first semester in the program.
If you hold current CPR/BLS certification, please provide the clinic manager a copy of both sides of your signed card showing the name of the course director or training center. Otherwise, training should be completed, and a copy of the certification submitted to the clinic manager before the start of the Spring semester.
Students must register for a hands-on training course or a combination of hands-on and online training. Training courses must be American Heart Association-approved; courses that "follow the AHA (American Heart Association) guidelines" is not sufficient and does not meet requirements to participate in clinical rotations.
Visit the Red Cross for more information about CPR/BLS training for Healthcare Providers.
For questions whether your CPR/BLS certification is acceptable for clinical experiences, please contact the Clinic Manager, Heather Fusco, in the School of Optometry's Eye & Vision Center at heather.fusco@mcphs.edu.
As part of the CORI background check process that's required for MCPHS students encountering patients in the school's Eye & Vision Center and during screenings, please submit the following:
A government-issued photo identification during your first week of class. Students will receive an email announcement at their MCPHS email account regarding details of when these will be collected;
Completed CORI Request Form [PDF] to accompany your government-issued photo identification;
After your iCORI Request Form and government-issued photo ID have been submitted, you must place an order for your background check online at mycb.castlebranch.com, indicating package code MH82, with a fee payable by Visa or Master Card.
If you would like more information regarding enrolling as a student member in the American Academy of Optometry (AAO), or wish to opt-out, please submit this form by the end of September. For questions, you may reach out to the student chapter of the American Academy of Optometry on the Worcester campus.
Membership in the Academy gives you a foundation upon which to develop your research skills and professional goals. Student memberships are granted to full-time Doctor of Optometry candidates who are in good academic standing and is active for four years. Visit the AAO website for details about the benefits of student memberships.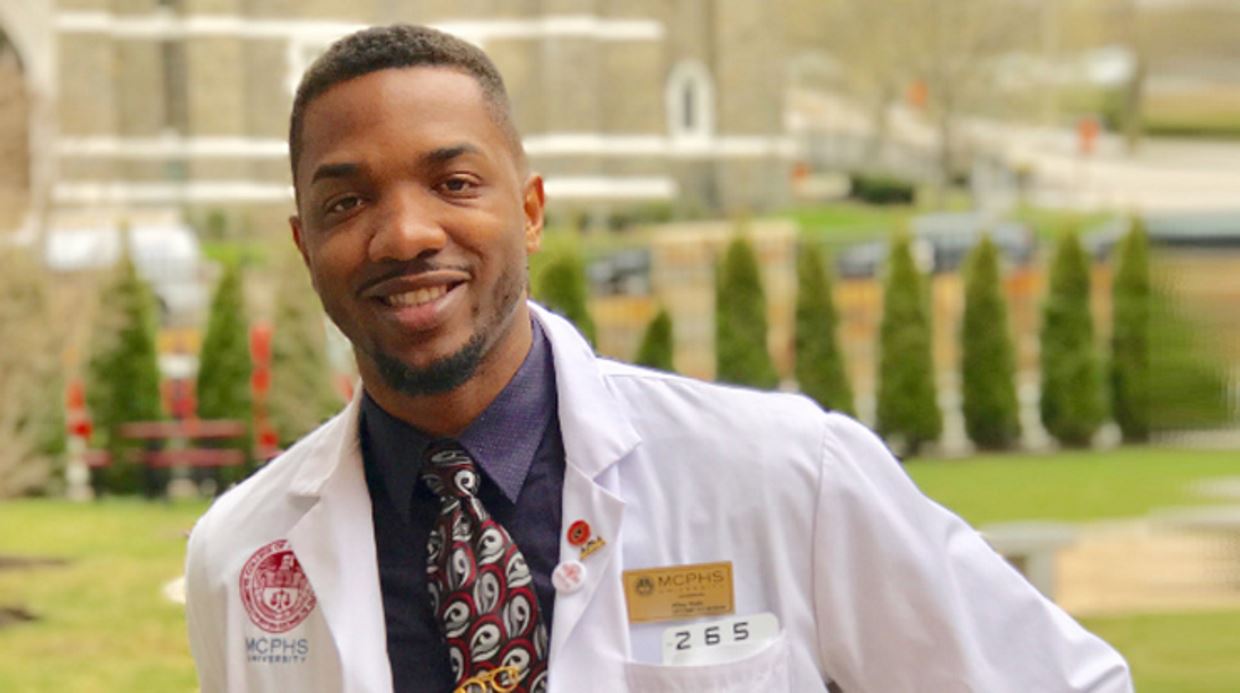 Student Spotlight: Wiley Walls, Optometry
As a second year student in the Doctor of Optometry program at MCPHS, Wiley Walls is laying the foundation of his future career.