Welcome to the Occupational Therapy Program
Congratulations on your decision to attend the Master of Science in Occupational Therapy program at MCPHS!
We're excited that you'll be joining us soon. There are some important steps to prepare for your time at MCPHS, detailed below. We will continue to post specific information on this page, so be sure to check back often.
White coats and name tags will be ordered for each student by the department. The white coat order form will be available late spring.
The MCPHS bookstore at the Boston campus is able to sell and rent textbooks to Worcester and Manchester students through their website. They offer free shipping and a bundle discount code to students for course material orders.
The fall 2023 book list will be available late spring.
Welcome from an OT Student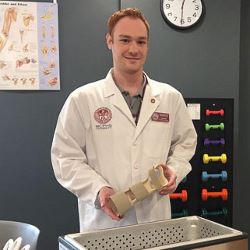 Nick
| Occupational Therapy
"Having the opportunity to help individuals return to their normal lives after injury or illness and being able to help someone through a rough period in their life excites me most about my future as an occupational therapist."